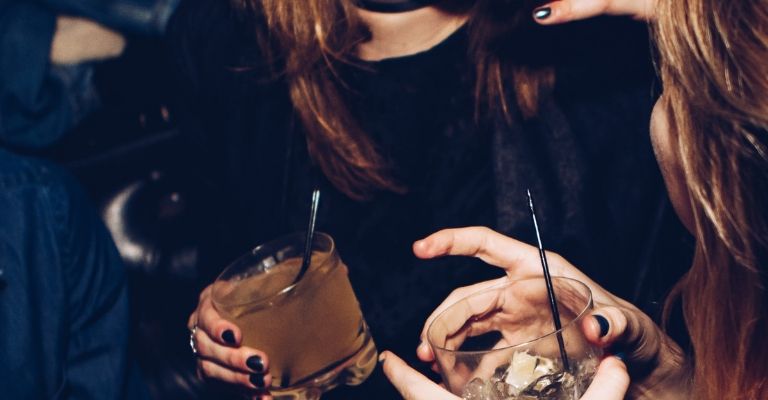 Show me your girlfriends, and I'll tell you what kind of marriage you have.
I'll tell you which ones you may find yourself hanging out with on the single's scene because your marriage fell apart.
Friendship is important, but all girlfriends are not created equal.
The last thing you need are a bunch of "Amen Sisters,"  women who discourage behaviors that strengthen your marriage and encourage you to tear your husband down.
Those are the people you should avoid because they'll probably end up single again and you don't want them taking you with them.
If you hang out with people like that, they'll start to affect the way you see your man, which will cause strife in your marriage.
Here are five signs to tell you which of your friends may end up hanging out in a singles bar :
She thinks she's smarter than her husband.
And she doesn't try to keep it a secret. She makes it clear she knows better than he does and takes every opportunity to prove it. She's openly critical of his decisions and of him. Her husband rarely has a good idea or does things in a logical manner, according to her.
She disrespects her husband and encourages you to disrespect your husband, too
She openly disrespects him. She's controlling and puts him down. When you confide in her about challenges in your marriage, she's the one who tells you "you shouldn't put up with that." She says stuff like. "You shouldn't have to tell him where you're going. He's too controlling."  She encourages you to challenge and even criticize your husband. If you don't criticize him, she may do it for you.
You have to act differently around her.
You can't act like you're happy with your marriage around her. She's constantly complaining about her husband and doesn't want to hear about things that are going well in your marriage. You can't share your victories with her. Even if things are good in your marriage, you have to find something to complain about when you are with her. You can't ever act like you're happy with your husband. This friend doesn't want to hear about it.
She encourages you to gossip and complain about your husband.
She shares intimate details about her marriage. She loves to complain about her husband and usually makes him the but of her jokes. She'll encourage you to put your private business in the public arena so she can laugh about it with you. When you have a friend who constantly complains or gossips about her husband, she'll rub off on you. Soon you may start to see your husband in a bad light, too. Complaining is contagious.
She tells you what you want to hear.
She's an "amen" sister. She'll tell you what you want to hear. She'll always take your side and pity you because he treats you poorly. She says things like, "I wouldn't put up with that." She'll encourage retaliation against your husband. She may help you plan ways to get him back and will revel in his misery when you share the details with her later. She'll justify any poor behavior you want to take.
Show me your girlfriends and I'll tell you what kind of marriage you have. I'm not saying don't lend an ear to a hurting friend. Be careful to encourage her instead of engaging in a male bashing session.
Find friends who want the same kind of marriage you do and are willing to work on it. Find friends who are willing support you in your marriage.
Avoid friends who encourage behavior that may be fatal to your marriage. Fostering an attitude of intimacy and respect will decrease your chances of getting back on the single's scene.
Need skills to build intimacy?
---
Subscribe to updates from The Not So Excellent Wife here!
Also known as the Not So Excellent Wife, Sheila Qualls understands how tiring a tough marriage can be. 
She went from the brink of divorce to having a thriving marriage by translating timeless truths into practical skills. She's helped women just like you turn their men into the husbands they want.
After 33 years of marriage, she's a  coach  and a speaker whose passion is to equip women to break relationship-stifling habits and do marriage God's way. And you don't have to be a doormat to do it.
She and her husband Kendall live in Minnesota with their five children and their Black Lab, Largo.
In addition to coaching, Sheila is a member of the MOPS Speaker Network.  Her work has been featured on the MOPS Blog, The Upper Room, Grown and Flown, Scary Mommy, Beliefnet, Candidly Christian, Crosswalk.com, The Mighty and on various other sites on the Internet.