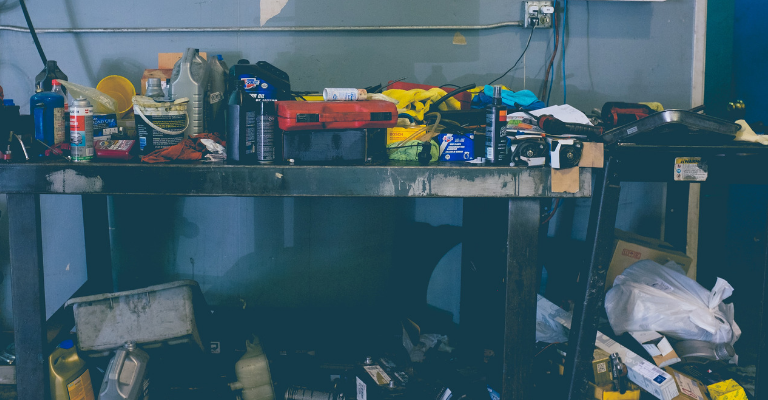 Does clutter cause conflict in your marriage? Or does a messy marriage cause clutter?
If your marriage feels hard and you have a messy house, it's tempting to connect the two.
But a messy house is not at the root of your marriage problems.
I just watched my first episode of Tidying Up with Marie Kondo.
Tidying Up with Marie Kondo is a popular reality TV show on Netflix.
Marie is a little Japanese organizing guru. The camera follows her as she visits families to help them organize and tidy their homes.
According to Marie, cleaning up will bring you joy.
It's not like joy is hiding under a pile of dirty clothes.
The "joy' Marie is talking about can't be found by cleaning your house. You might have an easier time finding things, but you won't find joy.
True joy comes from knowing God and accepting what He has done for you.
A clean house can't give you that kind of joy.
The episode I watched was about a couple who was struggling in their marriage. They blamed their problems on their messy house.
The wife was overwhelmed and wanted peace and joy. So they called Marie to help them clean up their house.
Tidying up and organizing their house is not going to fix their marriage.
I'm all for cleanliness and being tidy, but a messy house is not at the root of your marital problems.
It's a symptom.
It's not the cause.
Tidying up your house won't fix your marriage.
It just won't.
The struggle in the relationship probably causes the mess.
And once you're surrounded by clutter, you're more irritable, stressed, anxious and frustrated.
Think about it.
How many times have you snapped at your husband or kids because you were late because you couldn't find your phone or keys? Over time these interactions can really break down intimacy in our marriage.
After Marie took a tour of the couple's home and examined their mess, she did some kind of ritual thingie where she sat on the floor with her palms facing backwards, closed her eyes and kind of prayed to the house.
She told the couple to thank their house for protecting them.
Next, the tidying up began. She instructed them to lay all their clothes on the bed and keep only the items that brought them joy.
If a piece of clothing didn't bring them "joy," she told them to thank it for letting them wear it and toss it.
Maybe I'm too cynical.
But I couldn't help but think if they showed the same respect and gratitude towards each other that they show their stuff, they might find their marital problems start to clear up on their own.
If she showed her husband more respect, the messy house might not bother him so much.
If he showed his wife more gratitude, maybe she'd be more motivated to keep things in order.
Don't get me wrong. There are cases when clutter is an issue like in the case of hoarders. This goes beyond the definition of "tidying up. Hoarding is a serious problem, which can cause real problems in families and relationships.
But true joy comes from knowing God and what He has done for you. Tidying up won't teach you that.
Need skills to build intimacy?
---
Subscribe to updates from The Not So Excellent Wife here!
Also known as the Not So Excellent Wife, Sheila Qualls understands how tiring a tough marriage can be.
She went from the brink of divorce to having a thriving marriage by translating timeless truths into practical skills. She's helped women just like you turn their men into the husbands they want.
After 33 years of marriage, she's a coach and a speaker whose passion is to equip women to break relationship-stifling habits and do marriage God's way. And you don't have to be a doormat to do it.
She and her husband Kendall live in Minnesota with their five children and their Black Lab, Largo.
In addition to coaching, Sheila is a member of the MOPS Speaker Network. Her work has been featured on the MOPS Blog, The Upper Room, Grown and Flown, Scary Mommy, Beliefnet, Candidly Christian, Crosswalk.com, The Mighty and on various other sites on the Internet.