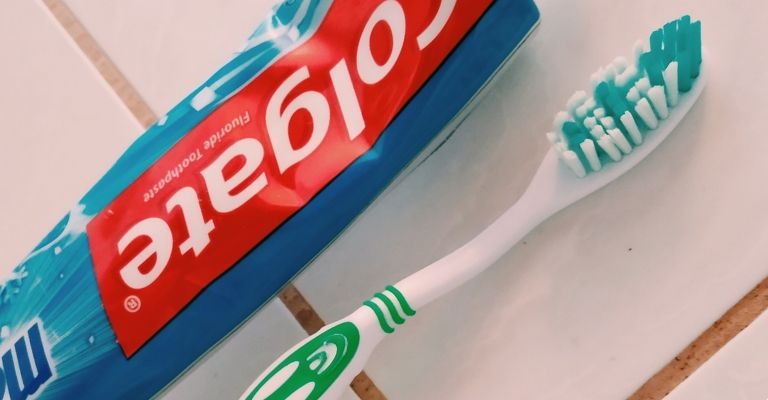 I learned three important lessons about expectations in marriage from the Colgate Pump.
Yep, I'm talking about toothpaste.
Expectations in marriage are a huge source of disagreement and disappointment.
Let me explain. When we married, I had a fundamental problem with my husband's expectations about how to get toothpaste out of the tube.
Thank God for the Colgate Pump
I squeezed the tube in the middle (or at the end or wherever I picked it up).
My husband preferred that we squeeze starting at the very end so that we could neatly roll up the empty portion of the tube as we used it.
The way I saw it: Toothpaste still comes out no matter where you squeeze the tube.
The bottom line: He expected me to squeeze the tube his way. I expected him to squeeze the tube mine.
Thank God for the Colgate Pump. Just push the trigger on top. No squeezing required.
And, here we are, happily sharing the same tube of toothpaste 33 years later.
In marriage, like with toothpaste, I expected to get something out of it with very little effort.
Good marriages don't happen by accident
Good marriages are built when couples focus on the kind of relationship they want.
I learned three great lessons about expectations in marriage from the Colgate Pump:
1. There's not a right way and a wrong way
There's your way, his way and the right way. The "right" way is the way you both agree something will be done. Just because your husband does something different doesn't mean he's wrong. When you try to change him, he may feel like you're trying to control him.
He may fold laundry or load the dishwasher differently than you do. Trying to change him hardly ever works and may create a barrier to emotional intimacy.
2. Don't tell him what's wrong and expect him to fix it

You think if you just tell him how he's screwing up, he'll change. (I've tried this.) Makes perfect sense to you. So, you talk and talk, but he doesn't change. You tell him what you've learned from podcasts you've listened to. You may even recommend counseling. The only thing that changes is your frustration level. Telling him what's wrong with him, will not motivate him to change anything.
3. Instead of engaging in battle, look for solutions
No matter what the problem, if you are both bent on finding a solution, you'll move through conflict much easier. It's easy to play the blame game instead of trying to find ways to solve a problem. If your goal is to break down intimacy in your marriage, focus on the problems, not the solution.
Strong marriages don't just happen. They're built when couples are solution oriented instead of problem focused.
Toothpaste is a silly thing. But toothpaste wasn't the root of the problem. We weren't meeting each other's expectations.
When expectations go unmet, intimacy breaks down, and a silly thing like toothpaste can squeeze the life right out of your marriage.
Need skills to build intimacy?
---
Subscribe to updates from The Not So Excellent Wife here!
Also known as the Not So Excellent Wife, Sheila Qualls understands how tiring a tough marriage can be.
She went from the brink of divorce to having a thriving marriage by translating timeless truths into practical skills. She's helped women just like you turn their men into the husbands they want.
After 33 years of marriage, she's a coach and a speaker whose passion is to equip women to break relationship-stifling habits and do marriage God's way. And you don't have to be a doormat to do it.
She and her husband Kendall live in Minnesota with their five children and their Black Lab, Largo.
In addition to coaching, Sheila is a member of the MOPS Speaker Network. Her work has been featured on the MOPS Blog, The Upper Room, Grown and Flown, Scary Mommy, Beliefnet, Candidly Christian, Crosswalk.com, The Mighty and on various other sites on the Internet.