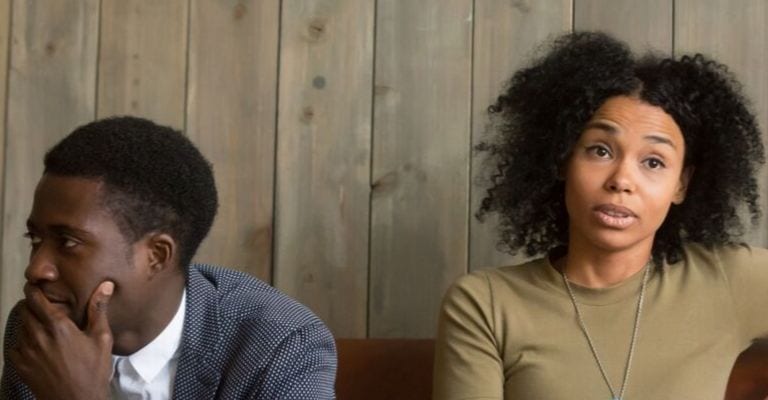 It seems innocent. But when have you ever said to your husband, "We need to talk," and he's responded with, "Wow! I thought you'd never ask. I can't wait!"
Probably never because something delightful rarely follows.
"We need to talk" are words your husband dreads hearing.
It's hardly ever, "We need to talk about how to make more time for sex" or "We need to talk about what a great husband you are."
If you want to cause tension in your marriage, just say, "We need to talk."
What you really mean is, "I need you to listen."
When you say "we need to talk," he hears "I'm going to tell you what's wrong with you."
He assumes he's done something wrong before you ever say a word.
I loved to say it
"We need to talk" is a signal you need to say something serious, and he may or may not like it.
Anytime something wasn't to my satisfaction in our marriage, I'd get a stern look on my face, drop my voice an octave and solemnly say, "We need to talk." Invariably tension followed.
But I loved to say it. It sounded serious and important. And so grownup.
And I knew I was going to get a chance to say what was on my mind. After our talks, I usually felt better.
When he hears "we need to talk," he hears it as a criticism. You're not happy about something. He isn't eager to know what it is. Because when you're unhappy, he sees it a poor reflection of him.
And truthfully, we usually use those words when there's a problem.
We always hear communication is key to a great marriage. But "communication" doesn't mean we need to talk more.
Women speak on average 20,000 words a day. Men speak on average only 7,000.
When you say those four little words, he may avoid you.
Why?
First, talking isn't high on his list. Second, no one wants to be told what's wrong with them. And last, no one wants to be controlled by being told how to fix it.
When we don't say what we need to talk about, this leaves room for all kinds of possibilities.
If you have to say it, don't leave him hanging. Finish the thought.
We need to talk about money.
We need to talk about the kids.
We need to talk about our plans this weekend.
Or instead of saying, "We need to talk," just talk. He'll appreciate it, and you'll have less tense moments in your marriage.
---
Need skills to build intimacy?
---
Subscribe to updates from The Not So Excellent Wife here!
Also known as the Not So Excellent Wife, Sheila Qualls understands how tiring a tough marriage can be.
She went from the brink of divorce to having a thriving marriage by translating timeless truths into practical skills. She's helped women just like you turn their men into the husbands they want.
After 33 years of marriage, she's a coach and a speaker whose passion is to equip women to break relationship-stifling habits and do marriage God's way. And you don't have to be a doormat to do it.
In addition to more than 33 years of marriage, Sheila has a Masters Degree in Communication and countless hours of mentoring and coaching women.
She and her husband Kendall live in Minnesota with their five children and their Black Lab, Largo.
In addition to coaching, Sheila is a member of the MOPS Speaker Network. Her work has been featured on the MOPS Blog, The Upper Room, Grown and Flown, Scary Mommy, Beliefnet, Candidly Christian, Crosswalk.com, The Mighty and on various other sites on the Internet.