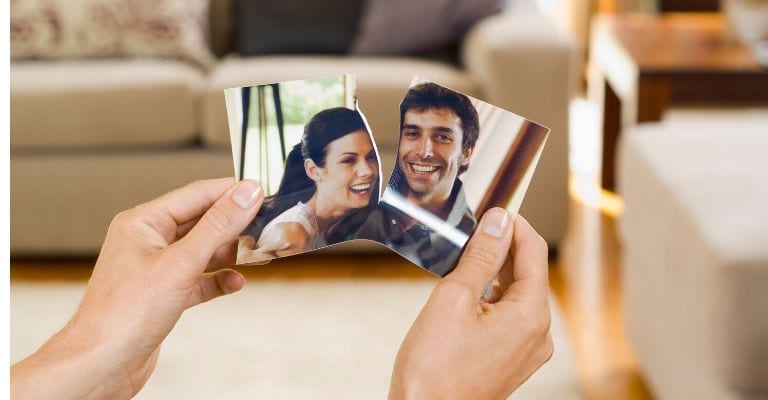 He gets on your nerves. Maybe he's lazy, works too much or is bad with money. Or you think you might be happier with someone else. Do you find yourself pondering, "Should I get divorced?"
I get it. Marriage can be a struggle. People sometimes use struggles as an excuse to divorce.
Divorce may be a permanent solution to a temporary problem. You can improve your marriage.
Everyone struggles at one time or another in marriage. You're not alone. Just because you're struggling, doesn't mean you ought to call it quits.
In some cases, divorce may be the only solution.* I'm not knocking anyone who's chosen that option.
Women initiate divorce more often than men, according to a study by the American Sociological Association.
Sometimes poor excuses motivate wives to call it quits when they could be focusing on ways to make the marriage better.
More times than not, there may be other solutions.
Here are five common reasons for divorce that may not be reasons at all.
1. You don't love him anymore
If marriage was based on feelings, everyone would be divorced. That bubbly feeling you got in your tummy when you saw your husband in the early days of your marriage is short lived. Love isn't a feeling. It's a decision, a commitment. You can choose to love him. Many days your love will be based on your commitment, not the way you feel. It's easy to look for reasons not to love him. Look for reasons you can.
2. He won't change
Every husband has issues. As tempting as it is to try to change him, it's not your job. It will lead to a whole lot of frustration. Instead focus on what you can change. You can only be responsible for you. Change the way you respond to your husband, and chances are, he'll change the way he responds to you.
3. You can't forgive him
Someone once said, "Unforgiveness is like drinking poison and hoping the other person will die." It only hurts you. You're going to get hurt in marriage, but refusing to forgive won't help. When you divorce someone you refused to forgive, you may leave the marriage, but you'll take the bitterness and hurt with you. And it will continue to affect your life. Forgiving doesn't mean you're letting him off the hook. It means you're no longer going to allow the hurt to hold you prisoner. If you need professional help, get it.
4. Your girlfriends think you should leave him
Other people are always willing to offer solutions to our problems. Their solutions are often based on their own experiences, which may have nothing to do with your marriage. A lot of times, the advice is lousy or advice she wouldn't take herself. Your girlfriends don't live in your marriage. Chances are they only know the bad stuff about your husband because that's what you share with them. They don't experience the tender moments between the two of you. If your friends don't support your marriage, get new friends. Find women who want better marriages and are willing to work to get them.
5. You think you'd be happier with someone else
You deserve to be happy is one of the biggest myths about marriage. Happiness in marriage isn't something you deserve. Staying in an unhappy marriage can affect your mental and emotional health. But you don't have to settle for dissatisfaction and mediocrity. You can learn to see your marriage differently. You don't deserve to be happy, but you can choose to be.
*I am not referring to cases of abuse. If you are being physically abused, get to a safe place immediately.
Need skills to build intimacy?
---
Subscribe to updates from The Not So Excellent Wife here!
Also known as the Not So Excellent Wife, Sheila Qualls understands how tiring a tough marriage can be.
She went from the brink of divorce to having a thriving marriage by translating timeless truths into practical skills. She's helped women just like you turn their men into the husbands they want.
After 33 years of marriage, she's a coach and a speaker whose passion is to equip women to break relationship-stifling habits and do marriage God's way. And you don't have to be a doormat to do it.
She and her husband Kendall live in Minnesota with their five children and their Black Lab, Largo.
In addition to coaching, Sheila is a member of the MOPS Speaker Network. Her work has been featured on the MOPS Blog, The Upper Room, Grown and Flown, Scary Mommy, Beliefnet, Candidly Christian, Crosswalk.com, The Mighty and on various other sites on the Internet.