Hey, now. I guess World Breastfeeding Week is a thing.
Here are a few simple rules to follow:
If you're a breastfeeding mother, yay! That's great. Enjoy hearing people say nice things for a change.
If you're a non-breastfeeding mother, ask yourself, "Am I feeding and caring for my kid?" If the answer is, "Yes, duh, I love my baby," then you are good to go. If you have friends who try to make you feel bad for not breastfeeding, those are not your actual friends, and you can do better. Maybe find some friends who are, you know, friendly.
If you're a breastfeeding mother who feels the need to educate people with your consciousness-raising nipplitude at all times, maybe take a step back and remember that nursing is about feeding and taking care of your baby, and clinical studies show that elevated levels of self-righteousness can pass into your breastmilk and will make your baby grow up to be an asshole. Maybe have a glass of wine and relax. (It's fine for the baby!)
If you're someone who feels the need to REPORT ALL THE SKIN  as nudity even when, come on, it's clearly not supposed to be nudity, then maybe get off social media, because geez.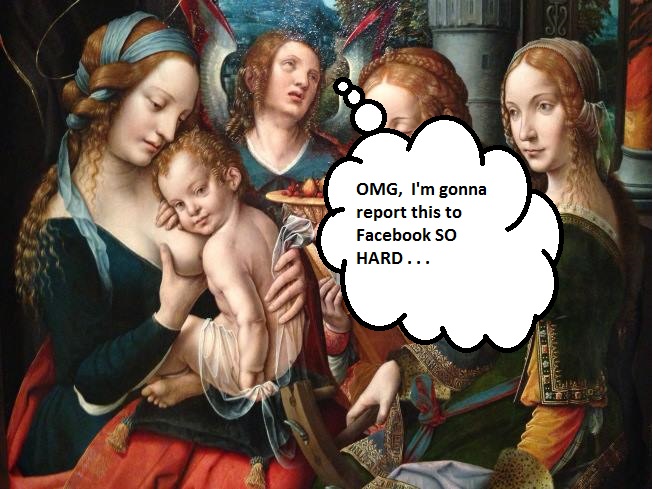 If your coworker or employee needs to pump breastmilk during the workday, rest assured that she is not doing it for fun, because it is not fun. It is hard work, it kinda hurts, and it's tiring. Skip the jokes, skip the raised eyebrows, skip the mooing noises, and get her a room with a door that locks.
If you're Donald Trump and think that the only conceivable reason a woman would want to take a break is because she's  being tricky, (even though she's prearranged to take a medically necessary break to pump milk for her very young baby) and that if women were meant to be lawyers, they'd just take their mastitis and blocked ducts like a man, then maybe you should reconsider whether the word "human" ought to be associated with your name at all, you disgusting little
[Here the MS. breaks off and is resumed in a different hand.]
In the heat of composition I find that I have inadvertently allowed myself to assume the form of a large centipede. I am accordingly dictating the rest to my secretary. Happy world breastfeeding week.