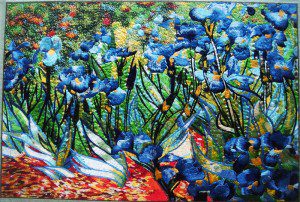 Are the irises dead
Have they lost their bloom?
Are they shrunken and shriveled
Are they gone so soon?
Is their deep purple less
And their curl no more?
Have the irises drooped
Taking color from my world?
Or do they live
In rich purple blues?
Do they sand alert
Catching spring's early dew?
First the bold crocus breaks
Hard winter's dirt
Then the scented hyacinth
With springtime flirts
And my irises stand
At attention so brief
Beside the lingering tomb
Of my holy week
Easter! It bursts
Through a vigil dark
The new fire sparks!
Ancient faith is rebirthed.
Alleluia! Trumpet the lilies
So white like snow
Christ is risen! Christ IS risen!
We proclaim, we KNOW!
And the lovely velvet irises
Silently bow and fold
To return another springtime
When my earth is cold.
– Sister Rose Pacatte, 1997
I wrote this poem on Good Friday that year, while recovering from major surgery and after learning that morning that I had MS.
What did it mean? What does it mean? All I know is that I am still here and once again, Easter comes when we cry out, "He is risen! He is risen as he said!"
The message this Easter: "Remember the poor." What does this mean?
Easter blessings to one and all and joy that we are all here, together, in the Risen Lord, and grace abounds.
R