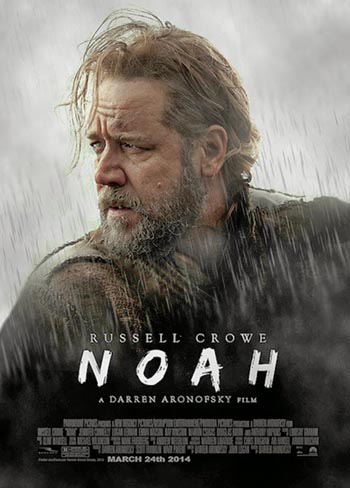 I must say that Jon Stewart takes some of the bite out of the controversy about filmmaker Darren Aronofsky's film "Noah" that came out on March 28.  Stewart's commentary and his choice sound bites from some commentators are nothing less than hilarious. By the way, "Noah" made almost $200 million worldwide already meaning that many people have gone to see it and are most likely talking about it and perhaps reading the Bible to check out the Book of Genesis.
Click here for Jon Stewart's brief television commentary on "The Daily Show" for "Haters of the Lost Ark". I must admit I missed it in the film, when Noah's son Ham actually does say that the Creator is God, but Stewart shows us where it's at. I am pretty sure we knew that already, that the Creator is God, and if you've seen the film there is no doubt.
For a variety of commentaries on the film by critics from many different faith communities, visit the Patheos Entertainment Channel. Peter Chattaway has posted a Muslim response to the film as well (remember, the film has been banned in some Muslim countries.) Click here for my review: Noah is not your typical robe-and-sandal Bible movie.
My favorite commentary on the film is from Fr. Robert Barron. Click here to read "Noah: A Post-Modern Midrash"
I think we could all use some scripture study refreshers so all of us can just calm down.
May I suggest the online courses offered by the University of Dayton's Virtual Learning Community for Faith Formation. About 50 dioceses in the US and worldwide have partnered with the VLCFF so that people can learn more about their faith and catechists can be certified. Click here for a list of the courses offered by the Virtual Learning Community for Faith Formation.
Scripture
I don't think it is enough to rant our our reactions to a film like "Noah." If we have an opinion it deserves to be well reasoned, informed and motivated. These courses from the VLCFF are, of course, Catholic Christian, but anyone is invited to enroll. (The cost is about half per course if your diocese is a partner.)
As people of faith it behooves us to actually know what we are talking about.