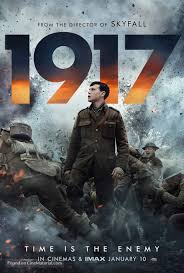 "1917" is a relentless video game-like imagining of one day during World War I. Though it shows the horrors of war, Sam Mendes' indulgent spectacle fails to take into account the audiences' will or ability to sustain almost two hours of horror for a five-minute denouement. As a whole, the film fails cinematically even if some scenes are effective. It is not based on one true story, but an amalgamation of memories.
Set in the trenches in France, mild-mannered British Lance Corporal Blake (Dean-Charles Chapman) is called to report to General Erinmore (Colin Firth) for an assignment. Blake tags his friend Lance Corporal Schofield (George McKay) to come along. Erinmore tells the men they are to cross the no man's land between their trenches and those of the retreating Germans, to deliver an urgent message to Colonel MacKenzie: he is to halt his planned assault on the Germans the next morning because it is a trap. Arial surveillance has shown that the Germans have withdrawn in order to regroup and trap two British units consisting of 1600 men.
The motivating factor for Blake is that his brother is serving in MacKenzie's unit and he wants, at all costs, to save him.
Several actors make cameos in addition to Colin Firth: Benedict Cumberbatch, Mark Strong, Richard Madden. The sole female actress is Claire Duburcq. The performances are all worthy. Any other qualities are lost to the overwhelming, unending intensity of the film.
For seven miles – and almost two hours of screen time – the two young soldiers make their way through trenches, across a killing field of the German's scorched earth retreat. It is one brilliantly constructed obstacle after another, one sequence of cause and effect after another, like a Belgian cartoon (or any cartoon for that matter.) There is one pause in the chain of events, and one female character, in the entire film.
I won't give away the details. But don't say I didn't warn you. One outlet called "1917" the worst war movie ever. If my memory serves me, I agree.
"Hope is a dangerous thing."