I noted the other day that I was glad to see Southern Baptist lobbyist Richard Land saying some reasonable things about immigration and commending a more civil approach to politics.
"Instead of attacking the person," Land said, "we deal with issues."
Kyle Mantyla of Right Wing Watch notes that:
This would be the same Richard Land who said that Oprah is "unimaginably dangerous," that the repeal of Don't Ask, Don't Tell would bring "God's judgment on our nation," and that gays are recruiting children in order to bring about the "outright sexual paganization of society."
Richard Land very rarely deals with issues. He has a habit, rather, of "attacking the person."
I have no problem with criticizing a person's character in addition to their stance on particular issues. I think it's not only acceptable, but sometimes necessary to do so. Like now, for instance: Richard Land has a long track record of saying outrageously nasty things about those he deems his political opponents even though he knows these outrageously nasty things are not true.
In other words, the official "ethics" spokesman for the Southern Baptist Convention is a habitual liar.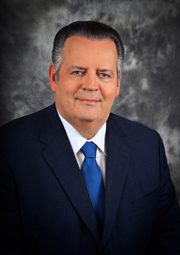 See the links above for plenty of evidence demonstrating that to be the case. Or — for a particularly nasty piece of dishonesty — see this one: "Land: Obama and Company Are Literally Nazis."
Yes, he went there. He goes there a lot. The subject in this case was the wholly debunked lie about "death panels." Richard Land lied and lied and lied about this, in the nastiest terms he could muster:
"I want to put it to you bluntly. What they are attempting to do in healthcare, particularly in treating the elderly, is not something like what the Nazis did. It is precisely what the Nazis did," said Land, president of the Southern Baptist Ethics and Religious Liberty Commission.

Land was the keynote speaker for the 20th anniversary "God and Country Banquet" of the Christian Coalition of Florida.

"Let's remember," Land added, "the first 10,000 victims of the Holocaust were not Jews, they were mentally handicapped German children who were gassed and burned in ovens because they were considered to have … lives unworthy of life," citing the Nazi ideology used to rationalize the Holocaust. …

Land said he has bestowed on Dr. Ezekiel Emanuel, the president's chief healthcare advisor, the "Dr. Josef Mengele Award" for his advocacy of healthcare rationing. Mengele was the German SS officer and medical doctor dubbed the "Angel of Death" for his role in the Holocaust.
Richard Land needs to repent of the sin of lying. And the Southern Baptist Convention needs to consider what sort of message they're sending to the children by allowing this openly practicing proponent of the mendacious lifestyle to serve in such a public capacity.
In evangelical circles, what I have just done there is considered out of bounds.
Ponder that for a moment. It's not considered a sin or even incivility to bear false witness and call others "Nazis" for seeking to provide health care for the uninsured. Richard Land is a respected figure in evangelical circles despite decades of such openly sinful behavior.
But it is considered "incivility" to note that someone deliberately misleading others by saying things he knows to be untrue is "lying." It is considered uncivil to point out that someone who talks about "homosexual recruitment of children" when he knows that it is not true is bearing false witness against homosexuals. It is considered uncivil to point out that someone who compares politicians to Adolf Hitler because they support "death panels," when he knows that there is no such thing as "death panels," is bearing false witness against his neighbors. When Richard Land bears false witness, it is not permitted to say "Richard Land is a bearer of false witness."
How perverse it that? Seriously, how many wrong turns does it take to arrive at a place where that makes any sense at all?