Let me take a moment to take a stab at explaining the lack of posts here the past few days.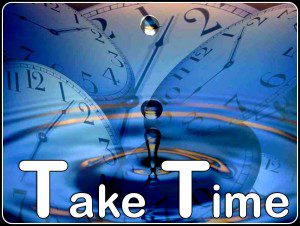 I took a step back to take stock and take into consideration whether or not I should take a day off my new night job, since this weekend seemed like a lot to take. But then I took into account the household budget, took a deep breath and figured I'd take my chances.
So I took a quick nap, took off to take in the final rugby match of the girls' regular season, grabbed some take-out, took another nap, took a shower, took some Advil, took the dog out, took my coffee black and took the Yaris to take the back-roads to work, where I took on taking inventory until quitting time, when I took off like a bat out of Hell.
I hope you won't take offense or feel like I'm taking advantage if I take a breather before taking on regular blogging today. The last few days have taken a toll.
Happily, though, I've found a remarkably versatile verb to help me take my best shot at taking on the challenge.
http://www.youtube.com/watch?v=faJE92phKzI