• Apologies for the recent lack of bloggage here. I haven't been sick, dead or trapped under something really heavy — just really, really tired. So I slept, a lot. That helped.
• Eric Reitan discusses "Anti-Gay Bigotry, Sincere Belief, and Christianity." Reitan, who teaches philosophy at Oklahoma State, offers a methodical, step-by-step response to the claim of reluctant, involuntary bigotry as an unavoidable, regrettable aspect of one's religious commitments.
He clarifies the essential point: Yes, you always have a choice. If the particular form of religious allegiance you have chosen entails harmful consequences for others, you aren't exempt from responsibility for that harm. You can't hide behind some version of dogmatic double-effect. Or, as I put it a while back, "You can't deny people their rights and be nice about it."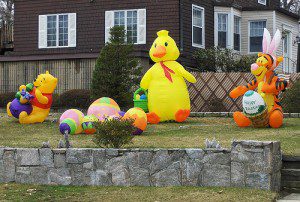 • I pass a house on the way to the store that has "Easter" decorations up. Lots of colorful pastel eggs and baskets in the yard and, as a centerpiece, a giant inflatable Winnie the Pooh in whose lap sits an inflatable chick hatching from a colored Easter egg. Alithos Anesti!
Culture-warrior Christianists spend most of Autumn every year lamenting the so-called "War on Christmas," but we never hear them complaining about the War on Lent. They might have a stronger case there.
• "Crash blossoms." This one made me think of Watchmen.
• "Young-Earth creationism is quite literally Orwellian." James McGrath posts an excerpt from 1984 in which O'Brien explains away the light from distant stars with the magic of doublethink.
• "What Would You Want to Buy After Spending 30 Years in Prison?" Glenn Ford spent 30 years in a Louisiana prison for a crime he didn't commit. He was released with a half-hearted apology and $20.04. But then his friends set him up with an Amazon wish list and registry …
This is a lovely story of charity stepping in where justice has failed. Charity is a good response to injustice, but the best response to injustice is, you know, justice.
• Gas station then grocery store. Gas station was playing country music. Grocery store was playing this classic from The Pretenders. Ever since, I've been thinking a country version of this song might be … interesting — particularly from a good old boy male country singer. Toby Keith, call your office:
https://www.youtube.com/watch?v=cMzSe6PbjMI