• You'll recall that Liberty University is producing and promoting a biographical movie about a Trump-loving conspiracy theorist.
Liberty's movie tells the story of Mark Taylor, the self-styled "firefighter prophet" who claims to have prophesied the election of his hero, Donald Trump. Liberty University originally chose to title the film "Commander" — a reference to Trump, whom both Taylor and Liberty University claim has been anointed by God to save America. Liberty has since changed the name of its film to The Trump Prophecy.
Liberty University is an accredited, actual institution of higher education. It's a real place. People pay real money to go there, receive degrees bearing the school's name, and take those degrees out into the world, proclaiming their association with it. People take out thousands of dollars in student loans for the privilege of doing that. Really.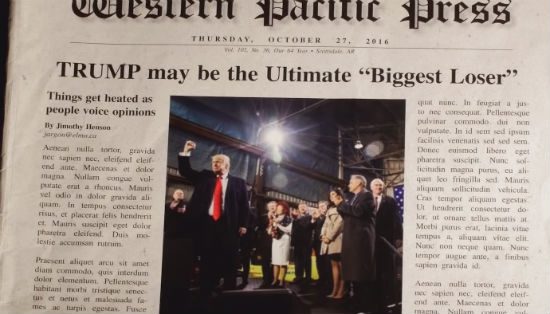 Mark Taylor himself has been doing everything he can to ensure the film gets just the kind of publicity it deserves. In the few short months since the project was first announced, Taylor has stated — voluntarily, in public, and on the record — that he believes:
Liberty University assures us that God is blessing their biographical movie about the life of Mr. Taylor, and that when movie-goers leave the theater, they will feel "proud about their country and the things God has blessed us with."
The Trump Prophecy opens as a Fathom Event on October 2 and October 4 in select cinemas nationwide.
The average cost of Liberty University, after financial aid, is $24,000 a year.
• Speaking of movies involving flagship white evangelical colleges … An unedited piece from the Essex Caller highlights an upcoming documentary on Wheaton College's Decision to Get Rid of It's First Black Woman Tenured Professor. It's hard to be sure from this report, but the film seems to focus on the wrong thing — on the sleight-of-hand of the bogus "theological" controversy rather than on what actually happened.
Hawkins' theological argument was identical to that made by Miroslav Volf at Wheaton College, where he was being honored as a respected guest by the same administrators who later pretended to be so aghast at Hawkins' statement. When a group of white dudes applaud and nod approvingly at a white male professor, then scream in alarm when a black female professor says the same thing, it's foolish to think the substance of her comments have anything to do with their reaction.
• And speaking of suburban white evangelicalism in the Chicago area … David Swanson has some thoughts on "Gentrified Church-Planting":
What I think these well-intentioned friends might be missing is the context wherein a white, suburban church starts a new church in an urban neighborhood which has been predominately black for many years. This is a neighborhood that saw white flight and institutional disinvestment when African Americans began moving in. For many years it was host to a high-concentration of public housing before those complexes where destroyed to make room for mixed-income housing which precipitated massive development, gentrification, and skyrocketing housing prices.

Over the generations, this neighborhood has been anchored by black churches – "gospel-centered, bible-believing" – churches. Yet now, as long-time residents are being pushed out, this suburban church enters the neighborhood.
Swanson points us toward Christena Cleveland's discussion of "Urban Church Planting Plantations," which beings with this observation from Soong-Chan Rah: "If you are preparing to do [urban ministry] and you've never had a non-white mentor, you are not an [urban minister], you are a colonialist."