Here is your open thread for January 26, 2020.
Today is the birthday of Lucinda Williams.
January 26 is also the birthday of Paul Newman and of Maria Von Trapp, so let me point out that Torn Curtain — starring Newman and Julie Andrews, is now playing on Starz and Hulu. It's a delightfully creepy 1966 Hitchcock thriller with Newman playing an American professor sent by U.S. intelligence to spy at a conference in East Germany.
The real Maria Von Trapp was more than just the character Andrews played in Sound of Music. Here's a nice 2016 blog post about Maria von Trapp (née Kutschera), which includes this quote from her memoir:
"Children," I said, "I feel as though we were at the beginning of a great discovery. It seems as if Herod isn't really dead. He keeps living under different names, like Saul and Nero, or Hitler and Stalin. He still seeks the child to destroy Him." How close Our Lord and His family had become all of a sudden when we met them as fellow refugees!
I grew up watching Sound of Music at least once a year with my evangelical Christian family. That was the 1970s and '80s, when it was on the short list of officially sanctioned movies deemed acceptable and edifying for good Christian families. Watching that movie taught me that the Nazis are always the bad guys and that refugees and those who help them are always the good guys. This is no longer a noncontroversial position in American evangelicalism. Nowadays, for most white evangelicals, the refugees are the bad guys who deserve to be locked up and deported. And the Nazis, well, there are fine people on both sides of that question. If an alliance with them is good enough for God's Chosen Cyrus, then it must be good enough for us too.
January 26 is the Feast Day of Saints Timothy and Titus, or, if you're in a fighting mood, the Feast Day of the PseudoPauline Epistles.
David Strathairn turns 71 today. Here he is in the role that earned him an Academy Award nomination, portraying Edward R. Murrow in Good Night, and Good Luck:
And today is the 90th birthday of the great political cartoonist Jules Feiffer. Much of his work, like that Murrow speech above, seems unpleasantly timely today.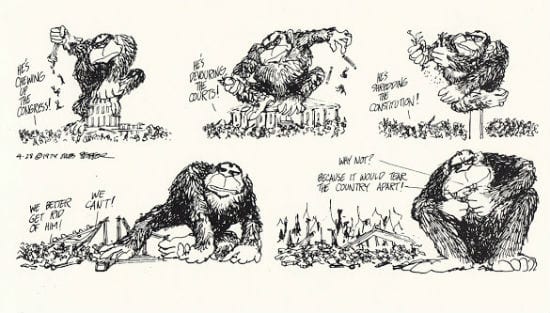 Talk amongst yourselves.