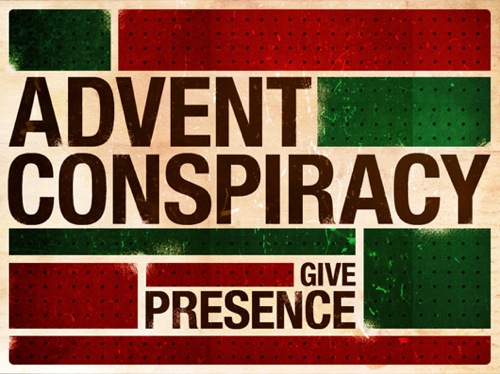 Whether your costume is back in storage or still crumpled up on the floor, whether or not you're still coming down from your sugar high, Halloween is over and so begins the unofficial start to the holiday season. (Hey, Costco has been selling Christmas ornaments since at least September.) This is the time of year we re-connect with family and friends, take time to acknowledge our many blessings, and of course celebrate Emmanuel, God with us. It's also a season characterized by hyper-stress, hyper-consumerism, and, absurdly, department store stampedes.
It is helpful for me to pause at the beginning of the holidays, to consider prayerfully what's really important, and to decide which Christmas narrative I want to participate in this year: a narrative of over-consumption or the foundational narrative of the Church, which can be summed up in four words: "…and God draws near." I believe that is our founding story, the pattern of Scripture, and the arc of human history.
In preparation for the season, I went back and read an article I wrote last year for Relevant Magazine about Advent Conspiracy. Advent Conspiracy was started by three pastors – Chris Seay, Rick McKinley, and Greg Holder – and is now a worldwide movement that seeks to make Christmas a scandalous "world-changing event again" by asking people to spend less and give more.
The article was called "Plotting and Advent Conspiracy." I thought I'd post the first few paragraphs here, as well as a link to the original article on Relevant's site. If you haven't heard of Advent Conspiracy, I encourage you to check them out. And let me be the first to say, Happy Holidays!
The day I write these words is the third Sunday of Advent. This is my favorite time of year to visit the monastery, and I woke up early to attend a morning service. "Everlasting joy shall be upon their heads," the monks sing. "They shall obtain joy and gladness, and sorrow and sighing shall flee away." And later: "He has sent us a mighty Savior / from the royal line of his servant David, just as he promised …" Joan Chittister describes Advent as "the season that teaches us to wait for what is beyond the obvious." Beyond the obvious is God entering the world as flesh, blood and bone. The response is jubilation. Thus, the pivot of history is proclaimed: "I am bringing you good news of great joy."

That jubilation can be hard to find during the holidays. Christmas has become a flashpoint between two empires, the Kingdom of God and the religion of over-consumerism. I've read the end of the story, so I know who wins, and I've come to the monastery to sing and pray and declare my allegiance. It's likely another Christmas could have quickly come and gone—with the strange, numinous beauty of the Incarnation lost beneath a mountain of presents and the hectic obligations of the season—but this year I'm participating for the first time in Advent Conspiracy, which has me thinking about Christmas in a new way.
Four miles from my house, atop the highest hill in the area, sits a Benedictine monastery. A dozen cement-and-brick buildings encircle the hilltop, including the church, abbey, retreat house, library and seminary. I don't think I can see my house from the monastery, but on clear days, which are rare enough in western Oregon this time of year, I can get a 360-degree view of the valley, encompassing hundreds of square miles of farms, fields, nurseries and small forests of Christmas trees. I am an oblate novice at the monastery. I don't do a good job of remembering to pray for my Benedictine neighbors, but I know they are praying for me. Six times a day, the monks offer praise and thanksgiving to God through the Liturgy of the Hours. They pray for the region, and I like to think of the monastery as a lighthouse that has been pulsing in this dark corner of the world for nearly 130 years.
Read the rest of the article and my interview with Greg Holder here at Relevant Online.
Image from South County Community Church in Glenpool, OK.