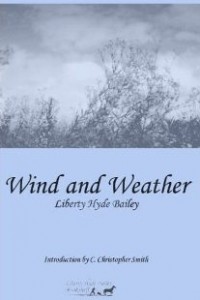 This is the second in my promised series of reflections on Liberty Hyde Bailey's poetry.
[ Bailey's collection of poems Wind and Weather, has just been released by The Englewood Review of Books as a bargain-priced Kindle ebook. It's well worth it! ]
Read the first post in the series here: Cultivating Wonder.
---
Wind and Weather
Passengers on the cosmic sea
We know not whence nor whither, —
'Tis happiness enough to be
Complete with wind and weather.
This first and title poem in this collection of Bailey's poetry reflects the importance of contentment (and particularly with the weather) in his overall philosophy. I have described this outlook in my essay on Bailey's poetry:
For Bailey, wind and weather are the essences of all nature, the "background" in which we must live (for an illustration of Bailey's notion of "background" see the poem "The Vagrant Rivers"). Wind and weather, for Bailey, are the essences of our environment because they represent changes therein. The variety of these changes is to be celebrated with child-like glee: romping on a rainy day ("Rainy Day"), crunching through icy snow ("Winter"), reveling in the "kinship of the mud" ("Mother Mud"). In his essay "Ways of approach to nature," Bailey stoutly proclaims: "Give us the rain and the hail and the snow, the mist, the crashing thunder, and the cold biting wind! Let us be men enough to face it, and poets enough to enjoy it" (Outlook To Nature 47). Part of our humility and connectedness to all creation is our attitude toward weather. Bailey says, "No man is content and happy who is out of sympathy with the environment in which he is born to live" (OTN 42). And if we can be at peace with the weather, it is "but a step" (OTN 47) to being so with all the creatures therein. To cast Bailey's sentiment here in theological terms, if we can be at peace with God who orchestrates the weather ("raining on the just and the unjust" we are told), then indeed we are well-prepared to live peaceably with all the creatures of God's creation.
I was recently re-reading Monica Weis's excellent book The Environmental Vision of Thomas Merton (Read my review in The Christian Century or Brent Aldrich's in The Englewood Review of Books), and I was struck by how similar Merton's understanding of weather was to that of Bailey. Granted, Bailey is theologically much more pragmatic than Merton (consider the first two lines of the above poem, for instance), but both writers have a deep sense of living contentedly within the weather and landscape of a place.
Merton writes:
Our mentioning of the weather … [is] perhaps not idle. Perhaps we have a deep and legitimate need to know in our entire being what the day is like, to see it and feel it, to know how the sky is grey, paler in the south, with patches of blue in the southwest, with snow on the ground, the thermometer at 18, and cold wind making your ears ache. I have a real need to know these things because I myself am part of the weather and part of the climate and part of the place, and a day in which I have not shared truly in all this is no day at all. It is certainly part of my life of prayer.
In describing Slow Church, we use the term ecology to describe this sort of at-home-ness within a landscape and a place. Creation is an interconnected whole, and part of living humbly within this creation is coming to be content with place, landscape and weather. We do great damage with our approaches to church and life that too hastily dismiss the interconnectedness of creation (nationalism, partisan politics, dispensational theologies, all of these, as examples, fragment the essential unity of God's creation).
As the lives and writings of both Liberty Hyde Bailey and Thomas Merton remind us, the first steps toward living at peace within an interconnected creation are being rooted in a place and allowing the weather and landscape of that place to teach us what it means to be content and to live faithfully within God's creation.