I had the privilege of going to a talk today that noted Indiana author and conservationist Scott Russell Sanders gave here in Indy. At the heart of the talk was the comparison between a culture of consumption and a culture of caretaking. Here's a picture I took of the key slide summarizing this comparison: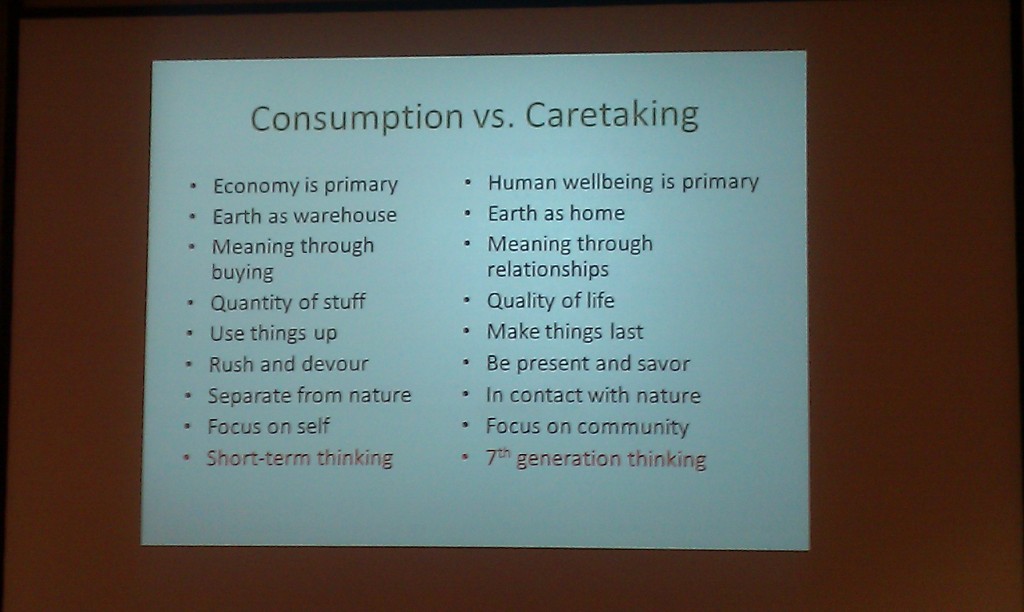 I share this slide here because I think he so brilliantly distills both the critique and the hope that John and I are calling Slow Church — the critique of the ways consumption shapes the culture of our churches and the hope that churches can lead the way in guiding the larger culture into a shift toward caretaking.
Theologically, I think our call as the people of God is to caretaking (and Sanders emphasized this point in his talk), but we have become all too domesticated by the consumption of the broader Western culture.
What do you think? Can churches become communities where the lost arts of caretaking are beginning to be recovered? What are some of the theological and practical shifts we will need to make as churches in order to reorient the culture of life together in local churches away from consumption and toward caretaking?