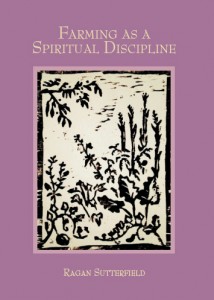 Food is central to the vision of Slow Church, in the practices of sharing food together and also caring about where our food comes from that God so graciously and abundantly provides food for us.
One of the most helpful introductory books in thinking about food in the life of the church is our friend Ragan Suttterfield's book Farming As A Spiritual Discipline. This book was developed from three talks that Ragan gave here at Englewood Christian Church in 2008, at a conference that we hosted on the church and agriculture.
For today (Monday July 16) and tomorrow (Tuesday July 17), this book is available for FREE as a Kindle ebook…
[ GO HERE to download your copy ]
Here's a taste, in Ragan's own words, of what he undertakes in the book:
The problem with our role in creation is that we don't remember it. In our fallen state we have forgotten our place, both within God's will and love and also in our love and care for creation. We need to be reminded of who we are and what we are about. Practices and disciplines are our primary way of learning to remember, of being recollected to our place and call as creatures. I would like to offer farming, done well, as one of those disciplines. Of course we cannot take on farming and expect to learn about our role within creation any more than we can fast and expect to learn about the nature and control of our desires. If we are to practice farming and learn from it we must take it on as an intentional discipline – ready to see and hear its lessons. 
If you enjoy podcasts, and want a further taste of the book, you can download the first of the three talks on which the book was based (it is ~90min long and broken into three chunks):
Part I: Ragan Sutterfield – FASD Talk – Part I
Part II: Ragan Sutterfield – FASD Talk – Part II
Part III: Ragan Sutterfield – FASD Talk – Part III
Please help us spread the word about this resource, and particularly the free ebook deal on Amazon…
AND be sure to check out Ragan's new blog on Patheos: Soul W.O.D.