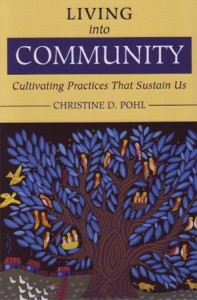 This is the third in an Advent series of eight posts that will wind their way through Christine Pohl's new book Living into Community: Cultivating Practices that Sustain Us (Eerdmans 2012 Buy now: Amazon // Kindle ). This book was chosen as The Englewood Review's Book of the Year for 2012, and as I hope will become abundantly clear over the Advent season, it fits very well with what John and I have been describing as Slow Church.
[ Read an Excerpt of LIVING INTO COMMUNITY ]
The Previous Post in the Series…
After a chapter on the complications that surround the practice of gratitude in our churches (which I overviewed around Thanksgiving time here on the blog…), Pohl explores the things that strengthen and weaken the practice of gratitude in our churches. In this Advent season of hope, I'd like to focus on the ways that she suggests that we can strengthen gratitude. She offers a number of suggestions of how we can begin to live more fully into gratitude.
On a personal level, she recommends starting each day with gratitude for the gift of another day. She quotes William Law: "Receive… every day as a resurrection from death, as a new enjoyment of life; meet every rising sun with such sentiments of God's goodness .. let your joyful heart praise and magnify so good and glorious a creator." She also reminds us that saying thanks before a meal should have significance for us. God has provided this food for us — through the bounty of creation and any number of fellow humans who have worked to bring it to our table — and we should celebrate this food with gratitude.
Pohl emphasizes the importance of making room for gratitude in our personal lives as well as those of our churches. We should have space in our life together where we can express our gratitude publicly for God' provision and for the gifts that God provides us in the brothers and sisters of our congregations. Many churches presently have — or have historically had — a time for sharing testimonies, and such times are important for cultivating gratitude together. We should take the time to write notes of thanks (or to express our gratitude in person) for the love and care that we are shown. "Our communities suffocate," she says, "when we fail to express how grateful we are for the goodness we find there — the ordinary expressions of fidelity and love that are so easy to take for granted."
Finally, Pohl drives home the importance of celebration for gratitude. The L'Arche communites deeply value celebration as part of their life together and Pohl quotes L'Arche founder Jean Vanier: "[Celebration] makes present the goals of the community in symbolic form, and so brings hope and a new strength to take up again everyday life with more love. Celebration is a sign of the resurrection which gives us strength to carry the cross of each day." (55). She also quotes a Latin American refugee who chided a North American church worker who was working feverishly among refugees: "You are not serious about our struggle. Only people who expect to go back to North America in a year work the way you do. You cannot be serious about the struggle unless you play and celebrate and do those things that make it possible to give a lifetime to it." (emphasis added). That last sentence gives a wonderful glimpse into the nature of Slow Church — committing a lifetime and taking the work seriously enough to play and celebrate.
In this Advent season, let us not get lost in the madness of the holiday season, but rather let us make time to be grateful, and in the coming Christmas season, let us celebrate with all joy and gratitude the gifts that we have been given in Christ Jesus, including our brothers and sisters in our local congregations!