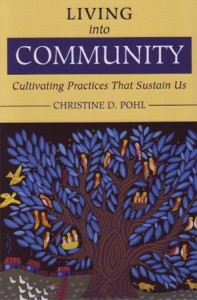 This is the fourth in an Advent series of eight posts that will wind their way through Christine Pohl's new book Living into Community: Cultivating Practices that Sustain Us (Eerdmans 2012 Buy now: Amazon // Kindle ). This book was chosen as The Englewood Review's Book of the Year for 2012, and as I hope will become abundantly clear over the Advent season, it fits very well with what John and I have been describing as Slow Church.
[ Read an Excerpt of LIVING INTO COMMUNITY ]
The Previous Post in the Series…
In the season of Advent, we wait for the coming of Jesus, and wait as the Israelite people did for the coming of the Messiah, the one who would set all things right. The Messiah was promised to Israel, and God was understood by Israel to be one who kept promises. Promise-keeping is the next practice that Christine Pohl explores in LIVING INTO COMMUNITY, but we can't begin to reflect on the ways that we keep (and break) promises without remember God as a Promise-keeper (and NO! I don't mean a participant in the 1990s Christian's men's movement of this name). Pohl says:
God abounds "in steadfast love and faithfulness, keeping steadfast love for the thousandth generation" (Ex. 34:6-7a). Even when we fail to keep our promises to God, God is faithful. The Christian faith is rooted in promises, and we as Christians understand ourselves as people of the new covenant, the new promise. A covenant-making, promise-keeping God has formed a people of promise, born by God's own fidelity (67).
The scriptural story is the record of God's fidelity to the people of God and to creation. A key part of our role as the people of God is to be faithful to the promises we make. We grow in trust and love for one another as we make and keep promises. Pohl notes:
Promises provide the internal framework for every relationship and every community — they function like the "hidden supports in a well-built house." We don't generally notice or call attention to them when they are providing structure to our relationships, though we certainly notice when they collapse. … Commitments and promises that have been tested and proven are at the root of our ability to trust one another, and without some measure of trust, it is difficult to do much of anything. It is hard to put ourselves and our energy into something if we can't count on fellow participants to do what they have said they will do. No team can work effectively when people are fearful about betrayal by fellow team members or when deep hurts resulting from broken promises have not been addressed (630).
We wait in anticipation in this Advent season because we believe God is faithful to God's promises. As we pause and wait and reflect, may we consider the promises we have made and our calling to follow God in keeping these promises, and seeking forgiveness and reconciliation for the promises we have broken.