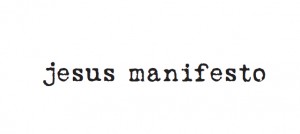 When John proposed the idea of reading the Sermon on the Mount every day through Lent, one of the first things that came to my mind was the paraphrase of the SOTM that my friend Ken Oster wrote a number of years ago entitled "Jesus Manifesto," (not to be confused with the later book of the same name by Leonard Sweet and Frank Viola).
After a fair bit of digging, I finally found my one page version of Ken's Jesus Manifesto, which I am honored to share with you here (and since it has been placed in the public domain, you are welcome to share it as you see fit):
---
Also, one of our friends has shared in the Lent Facebook group, the wonderful idea of listening to the SOTM.  If you are reading the SOTM daily with us through Lent, you should try listening to it at least occasionally.
A number of audio versions of the text are available through Bible Gateway
(but they require you to be online to listen)
Librivox has a number of recordings of Bible translations
(but apparently only older translations that are in the public domain).

Here are free mp3 files that you can download and take with you on the go:
American Standard Version:  [ Matt. 5 ]   [ Matt. 6 ]   [ Matt. 7 ]