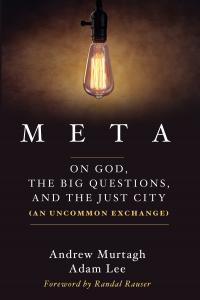 I am proud to announce the release of my second book Meta: On God, the Big Questions, and the Just City (An Uncommon Exchange), written by myself and Adam Lee, published by Cascade Books, an imprint of the Oregon publishing house Wipf & Stock, devoted to "books that combine academic rigor with broad appeal and readability".
Included are the links to the publisher and Amazon pages.
The foreword was written by William Jaworski, Associate Professor of Philosophy at Fordham University and author of Structure and Metaphysics of Mind. Here are some early endorsements/reviews:
"Andrew Murtagh and Adam Lee provide a model of how conversations in day-to-day life can be touched by the philosophical spirit—one that seeks actual reasons for accepting or rejecting various claims, that acknowledges the limitations of one's own perspective, and that is open to altering one's views in the evolving endeavor to discern what is true and to order one's life accordingly."

—William Jaworski, Ph.D., Associate Professor of Philosophy at Fordham University and author of Structure and the Metaphysics of Mind
"A bold journey… The nature of the good, the existence of God, faith and reason, the problem of evil, the historicity of Jesus, consciousness, heaven, causation, justice, church and state, and abortion, it's all here… If you share Murtagh and Lee's passion for the friendly pursuit of truth across deep intellectual divides, then Meta is for you."

—Randal Rauser, Ph.D., Professor of Historical Theology at Taylor Seminary and author of An Atheist and a Christian Walk Into a Bar…
"Perhaps you have grown tired of scholarly dialogues that regularly lose the audience in technicalities, or where opponents scream over each other so neither can be heard. If you enjoy dialogues but refuse to pay these prices, try this discussion between Andrew Murtagh (a Christian) and Adam Lee (an atheist)."

—Gary Habermas, Ph.D., Distinguished Research Professor & Chair of Philosophy at Liberty Baptist Theological Seminary and author of The Historical Jesus
"A theist and an atheist walk into a radio station, and out come a brilliant series of letters. Thoughtful, witty, respectful – Lee's and Murtagh's extended conversation about the nature of truth, existence, and morality transcends competition and spectacle."

—Katherine Stewart, journalist and author of The Good News Club: The Religious Right's Stealth Assault on America's Children
Some background on the project…
This project originated as a series of "letters" between myself and Adam Lee on the nonreligious channel; my from the Aristotelian-Thomistic viewpoint, Adam from the vantage point of naturalism and secular humanism. If you're interested in the intersection of philosophy, science, and theology, more than half of the book is specifically centered around these themes (God's existence, faith/reason, the problem of evil and suffering, morality, consciousness, free will, etc.). From that foundation, the dialogue germinates into broader topics in the public square (like defining justice, separation of church and state, abortion, healthcare, etc.) – politically Adam taking a "classical liberal" (his words) position, myself taking a "skeptical independent" position. There are also some chapters on the "Why Christianity?" question (both historically and theologically).
The book chronicles our written exchange turned roadshow, emerging friendship, and uniting around a common cause.
It carries a very special meaning to me, for a number of reasons, and is dedicated to my cousin Nick Givas and the inspiration he imparted to my family and I in his battle with cancer. In parallel to Nick's incredible journey, so was this project, which expanded to so much more than a book.
This book is much "deeper" than my first book Proof of Divine in a number of ways. First, in format, it's co-authored by two friends with opposing views. Secondly, in actual depth, given our contrasting viewpoints, it quickly "gets into the weeds". With that, since writing my first book, I completed a PgCert in philosophy where I focused on philosophical theology, ethics, and philosophy of mind, so the content largely followed my specific research interests in "the big questions". Lastly, this book project has now expanded into a mission I'd never imagined I'd personally take on: ending human trafficking. 20% of the profits from the sales of this book will go towards this cause.
From our early reviews, the feedback has been extremely positive, not only on the depth of the topics, but the way the conversation is being had. During the course of our blog exchange (which led to this book), we were invited for a series of live "debates" in Pennsylvania, New York, and Indiana. Our most recent debates in Indianapolis in 2016 were at "Theology on Tap" (a Catholic program of the Archdiocese of Indianapolis) and "Faith vs. Doubt" (at Crosspoint Christian Church in Fishers, IN). Here is quick
recap
.
This project has not only crossed denominational lines, but now transformed from a friendly debate platform into a mission. In prepping for our last event, Adam and I united to rally behind the shared cause of ending human trafficking. From this, birthed a new dimension, and ongoing commitment to the project. As I've written previously, I'd certainly heard about the topic in the periphery, but I continue to come into awareness of the evil and magnitude of human trafficking. My incredible wife Naomi played a large part in educating me on the severity of the issue. To put in mildly: the reality of this evil is harrowing. In 2014, the International Labor Organization estimated that 21 million people globally were victims of forced labor, 68% of these were victims of labor exploitation, 22% were victims of sexual exploitation, and 10% were victims of state imposed forced labor. A staggering realization, not only forced slavery, but sexual exploitation, many of which are minors.
Slavery has a dark past, so I thought, but make no mistake, it is alive and well, both in our nation and around the globe. I can't imagine the haunting feeling of losing my freedom. I vividly recall the nauseating feeling of the biographic portrayal of Solomon Northup in 12 Years a Slave. The brutality in the film is haunting, but even more so is Solomon's realization that he's lost his freedom. A free man kidnapped and forced into slavery, the film captures a speck of what one can only imagine in losing their freedom, and ultimately their humanity. The following scene, in particular, stays with to this day, the spirit of which has moved me to this cause (note it's incredibly graphic and disturbing):
The horror goes even more beyond comprehension for a minor forced into sex trafficking. To take stock: millions of people from all around the globe are forced into slavery, many of them sex trafficking, many of those children. How are we here?
They say analytic philosophy and philosophical theology can seem sterile sometimes. Philosophical arguments for God's existence can be somewhat interesting (they're particularly interesting to me), but how does one's theology come alive? What does a sincere faith look like? In James 1, I was taken aback by the theme of "true religion" and caring for "orphans and widows", echoes the the Greatest Commandment: loving God with all our heart, mind, and soul and loving our neighbor as ourselves (Matthew 22:36-40), specifically, the "least of these" (Matthew 25:45). To this aim, the Christian "religion" I am defending in the book intellectually; to this aim, the coming alive of the Greatest Commandment in the annihilation of the human trafficking.
If the book makes your reading list, I'd be honored by your feedback, just shoot me a note. Also, if you dig the book, my writing on the big questions, or want to keep tab of my and Adam's live events, be sure to check my or Adam's blog for announcements. If you're not interested, and the book doesn't make the cut for your dollars and time, would you consider joining Adam and I in the fight to end human trafficking?