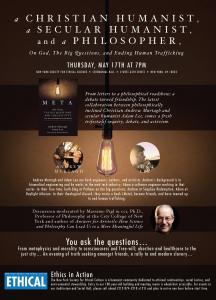 Amazing evening last week on Thursday as Adam and I were hosted by the Ethical Society of New York. Our discussion was moderated by one of my favorite philosophers, Massimo Pigliucci, Professor
of Philosophy at City College and author of Answers for Aristotle: How Science and Philosophy Can Lead Us to a More Meaningful Life.
The hosts from Ethical NYC, Anne Klaeysen and team, were incredibly gracious and Massimo was an unrelenting fair moderator with impressive philosophical and scientific depth to add t0 the conversation and/or challenge my and Adam's positions (unsurprisingly, he holds PhD's in both biology and philosophy and is well published in both areas). As you can tell by the picture, the venue wasn't too shabby either. I was so impressed by the history  and mission of the Society, dating back to 1876, founded by Felix Adler. Committed to fel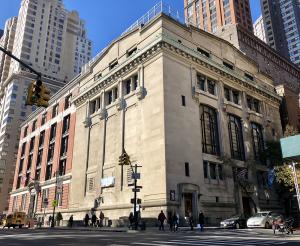 lowship, ethical living and social justice, many churches could take a note from the humanistic endeavor that is Ethical NYC. "Deed above creed" was a memorable sign I saw posted over one of the interior hallways. As a key belief for the founder and its current members, such a venue was an excellent place to have a discussion about the big questions with our shared humanistic aim front and center.
Massimo opened up the evening with some inquiry on how my and Adam's exchange was initiated (and eventually turned into a book), and why we specifically rallied around human trafficking as our shared cause

. He then framed an important question on why there is so much polarization around the big questions, which I thought made for some excellent conversation. After that, we jumped right in! Massimo's first philosophical puzzle was the "Why is There Something Rather Than Nothing?" question (playing a very good devil's advocate to both of us in reply). We discussed ideas (in both theistic and non-theistic frameworks) on this topic and the concept of metaphysical necessity. We also discussed the "why is mathematics so unreasonably effective?" question as morality, free-will, and consciousness (all topics Adam and I wrestled with in our book) and completed the evening with some fun Q&A. The recorded video is below.
It was truly a privilige to participate in this event (and this specific venue) with Adam and Massimo. Here's to many, many more celebrations of the big questions among friends while rallying around ending human trafficking!