The Meta tour continues! Adam and I are back it with another double header in my hometown.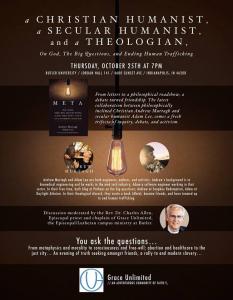 We're up first at Butler University on Thursday at 7pm. Our discussion, "A Christian Humanist, a Secular Humanist, and a Theologian: On God, the Big Questions, and Ending Human Trafficking", will be moderated by Dr. Charles Allen, theologian, Episcopal priest, and chaplain of Grace Unlimited, the Episcopal/Lutheran Campus Ministry at Butler.
On Friday, we're at Crosspoint Church in Fishers at 7pm. Our discussion,
"Faith vs. Doubt"
, will be moderated by pastor Curt Walters. As always, both events will celebrate an evening of truth-seeking among friends while raising money to support the fight on human trafficking,
a shared cause for Adam and I with this project.  
Your attendance and donations are always appreciated!