In my trip to Savannah, Georgia this summer, I was once again amazed at the beauty of the south. But as you stroll down the historic Savannah River, there is an haunting duality you can feel – something in the pit of your stomach. It's difficult to describe, but it's a feeling somberness that is superimposed with terror – the ghosts of our nation's past whispering to our souls – reminding us of the inhumane commerce that once took place in this port.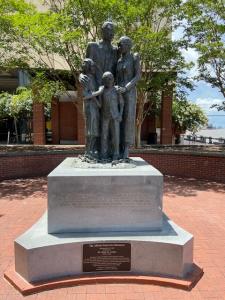 When you come upon the African-American Monument as I did, be sure to take a moment to reflect and fully take in the inscription from poet and civil rights activist Maya Angelou:
"We were stolen, sold and bought together from the African continent. We got on the slave ships together. We lay back to belly in the holds of the slave ships in each other's excrement and urine together, sometimes died together, and our lifeless bodies thrown overboard together. Today, we are standing up together, with faith and even some joy."
The quote on this monument is not without controversy. The original prose didn't include the last sentence. City officials felt it was too graphic for a public display on Savannah's famous tourist riverfront – if left bare.
Angelou's reply on it being "too graphic" was sage: "the picture of it, it's so horrible. And yet if we can see how horrible it is, then we might treat each other a little nicer". Still, she agreed to make it more upbeat and added the final line.
All taken together, I'm moved by the original quote. When history meets poetry, it should be disturbing. In that, I'm moved by her reply. If we stare at that monument, take in the full weight of those words and our nation's history, perhaps we all move forward towards a shared collective humanity. Lastly, I'm moved by Angelou's add to her original work. To the terror and sadness these words and our history lay bare – there is a way forward: "standing up together, with faith and even some joy".