Written by Mindahi Bastida Muñoz.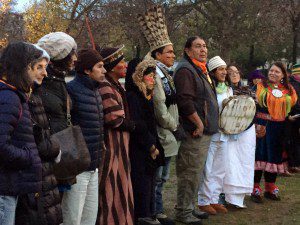 In this era of globalization and climate change, the wisdom and knowledge of individual ancient cultures is beginning to cross-pollinate in inter-cultural dialogue. This dialogue, which is happening this week in Paris, may represent our only chance of facing the escalating all-encompassing crisis that threatens to overwhelm individuals and nations alike and possibly destroy all. As it progresses, it is also important for Native peoples to come together in unity so that they may share the vital ancestral knowledge they hold in common.
Nowadays, humanity is experiencing the end result of a different kind of knowledge. Since its inception over 4,000 years ago – and increasing dominance for more than 500 years in the Americas, this other kind of knowledge has culminated in a disharmonious, fragmented, and highly destructive way of interaction and relationship with both people and nature. Climate Change is a result. It is in the return to the sacred origins of the ancestral wisdom, principles and values, that we all may recover balance and sustainability. In this way, indigenous knowledge plays an important role for adaptation and mitigation of climate change.
EVENTS RIGHT BEFORE COP 21
Immediately Preceding the U.N. Conference in Paris, also known as COP 21,there were 2 important events where indigenous peoples participated:
First, the Conference on Resilience in a Time of Uncertainty: Indigenous Peoples and Climate Change, which took place on November 26-27, 2015 in U.N.E.SC.O. General Headquarters. There it was stated that, based on ancestral knowledge, principles and values, Indigenous Peoples are among the most resilient people on Earth. Also, it was said that indigenous peoples offer important experiences to the world regarding resilience and adaptation to climate change.
The other event followed the Assembly of the Guardians of Mother Nature, which occurred on November 28th, 2015 in Paris. Indigenous representatives, personalities and organizations, from around the world reminded us that indigenous populations represent more than 370 million people, in more than 70 countries and 5 continents. Here surged a document: Proposals and Recommendations of the Alliance of the Guardians of Mother Nature to the States and to the international community for the preservation of climate and future generations.
Among the most important proposals in this document are: (6.) Preserve fossil fuels in the soil by ending exploration and all forms of extraction to protect Mother Nature, as recommended by indigenous knowledge and scientifically supported by climatic constraints. (14.) Recognize through the UN and UNESCO the biocultural sacred sites of tribal and indigenous peoples and local communities, along with their land and governance rights on these sites.
It was signed by many organizations, among them was the Center for Earth Ethics. This document represents the willingness to take care about Mother Nature. These two preliminary events made clear that at COP21–and all ongoing and future negotiations–the voice of ancestral peoples should be present at all times.
DURING COP 21
During the UNFCC 21st Conference of the Parties, Paris COP21, there is an intense participation of Indigenous peoples, not just in the Indigenous Pavilion but also in other places, including the official conference spaces, such as in the Peruvian Pavilion. For example, there was a round table on "Building indigenous resilience for biocultural responses to climate change² which is part of the Indigenous Peoples¹ Biocultural Climate Change Assessment (IPCCA), creating connections between indigenous biocultural realities and complex global systems".
Here it was argued that as indigenous peoples continue to articulate and negotiate alternative responses to the many dimensions of climate change, including forest conservation, mitigation and adaptation, creating living laboratories of climate change and adaptation. These living laboratories have emerged as a sustainable mechanism through which traditional knowledge and conventional western science can engage equitably in dialogic and mutual learning aimed toward the benefit of communities affected by the impacts of climate change.
BEYOND PARIS: INDIGENOUS PEOPLES BIOCULTURAL CLIMATE CHANGE ASSESSMENTS
This initiative uses the Living Lab approach of the Indigenous Peoples¹ Biocultural Climate Change Assessments and the "biocultural territory" concept. It is a collaborative effort to combat climate change, providing indigenous and traditional peoples with a powerful tool to cooperatively test, learn, discover, teach, apply and share the outcomes of our inquiries on climate change and advance sustainability and resilience of their nations.
Native peoples are key actors in order to support sustainability of our Mother. Traditional knowledge is key for the conservation of biocultural diversity. For example, almost all our traditions have rituals to orient people to place and acknowledge the presence of the elements and other living beings. We also know that Water like other three elements of life -fire, earth and air, is not a resource but a sacred element. The water is needed for all living creatures and for the all the spaces where she interacts. We should treat water with deep respect, love and reciprocity.
But most native peoples do not have contacts with other native peoples or are being ignored by other societies. So it is necessary today for native peoples to come together, not only for their own benefit, but also for the sake of our Mother and other societies. In the long term, the unification process will support the self-determination of peoples, will safeguard Mother Earth, and will help maintain a permanent dialogue with other cultures for the sake of all.
Mindahi Bastida Muñoz is General Coordinator of the Otomi-Hñahñu Regional Council in Mexico and a researcher and guardian of the ancestral sacred Otomi knowledge and original peoples of Mesoamerica. He is currently scholar in residence at The Center for Earth Ethics at Union Theological Seminary in New York City.