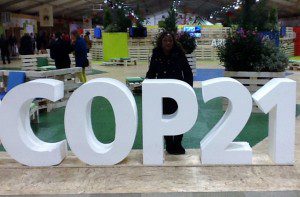 Written by Catherine Coleman Flowers.
The gathering of nations for two weeks in Le Bourget, Paris is an effort to achieve a legally-binding agreement on climate. In order to avoid the destruction of life on earth, humankind must change the way we do things, and acknowledge the rights of Mother Earth. To help achieve that objective we also need to clearly articulate the needs of frontline communities and nations and partner to stem the flow of climate refugees. This can not happen without understanding the intersection of race, climate justice, environmental justice, and poverty. Ignoring these realities will result in social upheavals and wars that could dwarf the Syrian crisis.
While in Paris, I was able to participate in various side events. In each of the meetings, people were present from affected communities. Whether it was the Gulf Coast of the United States, indigenous communities from throughout the Americas and Western Africa, the Baltic Peninsula, or island nations in the Caribbean, folk were seeking solutions and ways in which they could mitigate rising sea levels, polluted air and water, shrinking groundwater sources, and lost of wildlife. More often than not, those who are currently dealing with the realities of climate change are desperately seeking ways to give voice to their concerns and seeking a language in which to articulate solutions.
Many of those on the front lines of the climate crisis are poor and African descendant or indigenous communities. According to the American Academy of Allergy Asthma and Immunology in the United States, about 1 in 9 non-Hispanic blacks of all ages and about 1 in 6 of non-Hispanic black children had asthma in 2009, the highest rate among racial/ethnic groups. Rising sea levels consequent to climate change pose real threats to coastal populations along low-lying coastal sites because of the increased likelihood of flood events; furthermore, the frequency of storm surges may also be exacerbated by sea-level rise. The Nigerian coast, for example is likely to experience severe effects from flooding. The extraction industry has caused contamination of water throughout North and South America.
The current economic paradigm is based on an exploitative model that destroys not only health, communities, ways of life, but also Mother Earth. It ultimately rewards destruction with no regard for the future of life and wellbeing. Clearly put, Gross Domestic Product is not sustainable and it is time to change to a new economic model based on the UN's new Sustainable Development Goals. The agreement that will be reached at COP 21 will be achievable when framed within the new SDGs and also when it is articulated and mitigated from the top down as well as from the bottom up. Without these shifts in thinking and action,  racial disparities, poverty, and environmental injustice will exacerbate the climate crisis creating even more refugees. Unfortunately in this crisis, the lines will quickly blur. And all life will be endangered no matter one's racial, social or economic status.