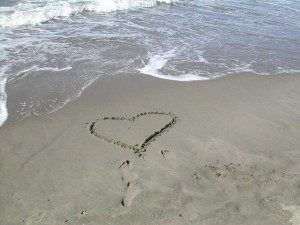 How is your haal (the transient state of your heart)? How is your heart this Valentine's Day?
Does anyone remember the "Reach Out and Touch" television ads of the 70s and 80s? Each presented a different scenario: a homesick college student; families relishing new friends they met on vacation; a woman stops short when she hears her friend say, "Stop twirling your hair."
Even in those days, long before wireless technology and smart phones, the message came through loud and clear: When we connect, love is real and our hearts dance.
Since it is Valentine's weekend 2016, let's intentionally look at love through the lenses of the legend of Valentine's Day and a reflection on being busy by Omid Safi.
The Legend of Valentine's Day
Valentine's Day began as a liturgical celebration honoring an early Christian saint named Valentinus. St. Valentine of Rome was a priest who was martyred around 496 for refusing to convert to Roman paganism. He was imprisoned after ministering to Christians and presiding at marriages for soldiers during a time those serving in the military were forbidden by the Roman Emperor to marry.
As the story goes, to encourage faithfulness, Valentine would cut out parchment hearts and give them to Christians. According to legend, during his imprisonment, Valentinus healed Julia, the blind daughter of his jailer, Asterius. Before being executed, since she could now see, he wrote her a letter and signed it "Your Valentine."
I suspect Valentine had no idea of the legacy of cards, flowers, and candy that would ultimately develop from his compassionate outreach.
A Reflection on "Being Busy" by Omid Safi
Omid Safi writes a weekly column for Krista Tippett's On Being blog. http://www.onbeing.org Omid is Director of Duke University's Islamic Studies Center. He is also a prolific writer and editor of Progressive Muslims: On Justice, Gender and Pluralism. I found a column he wrote in 2014 particularly relevant.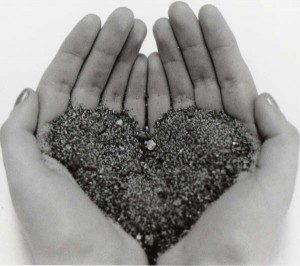 In "The Disease of Being Busy," Omid asks the question, "How are we supposed to live, to examine, to be fully human when we are so busy?"
Omid associates being busy with not being "at ease" – and suggests this dis-ease is spiritually destructive to our health and wellbeing. It saps our ability to be fully present with those we love and keeps us from forming the kind of community that we so desperately crave.
Omid explains that in many Muslim cultures when you ask how someone is doing, rather than saying "How are you?" the question you ask is:
"In Arabic, Kayfhaal-ik? or in Persian, Haal-e shomaa chetoreh? How is your haal?" Haal is the transient state of one's heart, so the question translates as, "How is your heart doing at this very moment, at this breath?"

Omid offers a distinction between to-do list items and giving voice to deep emotions that resonate. He says:
"I am not asking how many items are on your to-do list, or how many messages are in your inbox. I want to know how your heart is doing, at this very moment. Tell me. Tell me your heart is joyous, tell me your heart is aching, tell me your heart is sad, tell me your heart craves a human touch. Examine your own heart, explore your soul, and then tell me something about your heart and your soul."
And here's the Valentine's weekend bonus: Omid goes on:
"Tell me you remember you are still a human being, not just a human doing. Have that conversation, that glance, that touch. Be a healing conversation, one filled with grace and presence. Put your hand on my arm, look me in the eye, and connect with me for one second. Tell me something about your heart, and awaken my heart. Help me remember that I too am a full and complete human being, a human being who also craves a human touch."¹
What Have We Learned?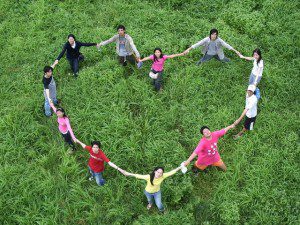 We have learned the deep roots of commemorating Valentine's Day emphasize care, healing (literally allowing people to see), extending one's self to another, and faithful hearts.
Omid reminds those of us who struggle with the dis-ease of incessant busyness to look deeper and honestly risk sharing the state of our hearts with each other. This message really is counter cultural.
See – Love – Touch – Heal – Connect.
How is your heart?
Savor that word, glance, text, call, hug, question, touch, visit, conversation…that meaningful moment when someone was vulnerable enough to reach out and touch you.
Or when you had the courage to reach out and touch someone else. Try it today.
I would love to hear what a difference it made in your life.
Note:
1. Safi, Omid. "The Disease of Being Busy." Web blog post. On Being. Krista Tippett, 6 Nov. 2015, Web. 9 Feb. 2016.