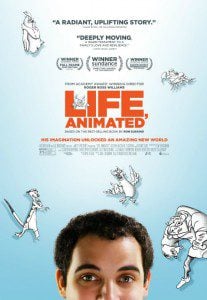 According to Cornelia Suskind, "Everything (in our life) was falling into place, and at three years-old Owen vanished." Up until this point, Owen Suskind was a typical vibrant and active child who loved to laugh, play and smile. He played with his older brother, Walter, and was a jovial addition to his family. One day, for no apparent reason that can be attributed to an accident, mishap or visible trauma, the Owen his family had come to know and love was no longer present. His motor skills began to deteriorate, he wasn't sleeping and his language processing skills began to break down.
Ron and Cornelia Suskind, Owen's parents, felt like "Owen had been kidnapped." After consulting with doctors and specialists, Owen was diagnosed with a form of autism called Pervasive Development Disorder.
One year into the diagnosis, Owen was still speaking "gibberish." The family noticed as Owen's brother Walter would frequently watch Disney movies they seemed to have a calming effect on Owen. One day, as Owen watched The Little Mermaid, out of nowhere he repeated three words from the movie, "Just your voice." His parents were ecstatic and thought maybe it was over. Maybe Owen was back.
Unfortunately this wasn't the case.
It wasn't until four years later that the family would have the most unimaginable and delightful breakthrough that no one could have ever anticipated.
Silently sitting and watching the entire catalog of Disney animated films, the family had no idea Owen had memorized dozens of movies.
Based on the real-life story of Owen Suskind, the son of the Pulitzer Prize-winning journalist Ron Suskind and his wife, Cornelia, Life, Animated, tells the story of how Owen found in Disney animation a pathway to language and a framework for making sense of the world.
This pathway made it possible for Owen to open a new doorway to communication with his family.
Through the use of language from specific scenes to express love and loss, kinship and brotherhood, the family was forced to set aside any personal inhibitions and become animated characters to engage in communicating with him through "Disney dialogue and song."
Based on Ron Suskind's best-selling memoir, "Life Animated: a story of Sidekicks, Heroes and Autism," Suskind explains how the family and therapists helped Owen use the Disney stories to relate to real situations, develop "inner speech" capacities, and gradually connect to others. He calls this intense interest in Disney an example of an autism "affinity," referring to the propensity for individuals with autism to develop sustained, self-directed passions in one or a few subject areas.
The Suskinds found that these deep interests – long viewed as unproductive obsessions that should be curtailed – are more "pathway than prison" for individuals with autism or other non-traditional learners, insofar they use them "like an enigma machine to crack the codes of the wider world and find their way forward.
The New York Times book review of "Life, Animated" wrote that Suskind "charts Owen's remarkable journey back to connection through the unlikely vehicle of the Disney cartoons that are his only passion."
For Owen and his family, Disney evolved into his translator of reality.
He memorized every line of dialogue in the films and learned, in his own way, how to re-enact each scene, fully loaded with the emotions and the moral lessons embedded in them. And his family, despite the misgivings of their doctors, learned to connect with Owen through Disney as well."
The St. Louis Post-Dispatch called it a "wonderful book, whether or not you know a person with autism," and asserted that, "without delving into too much statistical and informational overload, Suskind explains in a straightforward way many of the differences in how people with autism perceive and process information."
Life Animated, the documentary, is directed by Academy Award winner Roger Ross Williams, and produced by the acclaimed Julie Goldman. The documentary premiered January 23rd, 2016, at the Sundance Film Festival, where it won director Roger Ross Williams the Sundance Directing Award: U.S. Documentary.
Touching upon themes such as who decides what a meaningful life should look like, navigating the unknown, the consistent nature of change in life, while in the world of Disney nothing changes, Life Animated is a beautiful and touching story of absolute love and courage.
As I watched the film, the idea of 'my brother's keeper' continually came to mind. Most cannot imagine the colossal frustration of not knowing how to help your child in such a situation. However, the compassion, care, interest and love displayed when the solution finally presented itself is indicative of what it means to work with what's available to you when you go with the flow.
Owen showed his family where and how to meet him. They didn't know what would be the outcome of stepping through Owen's newfound "Disney doorway", but they had to courage to follow his unconventional lead.
Within the heart of every person there is a compass pointing at the best path to follow. There are no 'good' or 'bad' paths. They are just paths. And every path leads to a different destination. The difference lies in the very destination that you want to reach.
Life is always packed with unexpected happenings.
As Owen's break through reminds us, solutions often present themselves in unexpected ways, and we are always given a choice of how we will choose to respond. Owen's family chose to let him be "their keeper."
Now communicating as a thriving adult, who still loves the Disney films that helped "re-unite" him with his family, Owen's story continues to lead us all on an unexpected journey of exploration and expansion.
Life, Animated will be released nationwide, by The Orchard, and in theatres beginning July 1, 2016.
For more information, or to check for theatre screenings in your area, you may visit the official website at: http://www.lifeanimateddoc.com/film/.
Save
Save
Save
Save