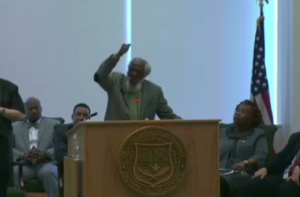 Judicial Watch just uncovered government documents that prove that the US government paid a black social activist with a reputation for spewing hateful and racist remarks to speak at an event for the US Census Bureau during Black History Month.
… Judicial Watch has obtained the disturbing transcript and the shocking video of the offensive political rant. […]

Based on Gregory's well-known reputation as a fiery race-baiter, it's unlikely that the government officials who booked him didn't know about his discriminating, shock-based performances. The Census Bureau paid Gregory $1,400 to "share a wealth of history as a Civil Rights Activist," according to the records obtained by JW under the federal public records law known as the Freedom of Information Act (FOIA). Instead, American taxpayers funded a disgusting stand-up routine filled with the "N word" and replete with conspiracy theories about whites and the U.S. government targeting prominent blacks—including Martin Luther King and Malcom X—for assassination or career destruction (golfer Tiger Woods and beleaguered comedian Bill Cosby).
Among other racist and horrible remarks he made, he also said that:
The rioters who destroyed Ferguson after a cop fatally shot a black man with an extensive criminal record who had just committed a robbery, didn't steal enough merchandise from the businesses they looted, Gregory told his government audience. "I was complaining about Ferguson because the N_ _ _ _ _ _ wasn't getting enough," Gregory said, according to the transcript obtained by JW. "Did you see the brother go in there and walk out with a half-pint, I said 'Get some tips.' And, y'all be trying to trick them White folks and say rebellion. No rebellion is put together, predicated, on some White person shooting a Black person and that tips it off. Those was riots, riots."
How in the world is our government getting away with paying this guy our hard-earned tax dollars? Just letting him speak at a government event would be bad enough… but actually PAYING him to speak! Our hard-earned taxpayer dollars went to fund his terrible tirade!
Not to mention, why is no one talking about this? If this had been a white comedian spewing hatred towards the black community, people would be outraged – and rightfully so. His face would be plastered all over the media. Yet, only a few outlets are reporting on this?
This is yet another sad example of our government's corruption and moral emptiness. And yet another example of our media's hypocrisy.
Read more on the Patheos Faith and Family Channel, fan me on Facebook and follow me on Twitter!