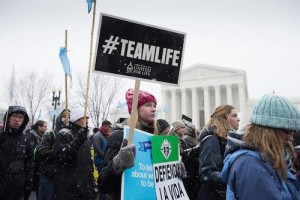 The 43rd March for Life went on this week on the anniversary of Roe v Wade despite a historic blizzard that slammed DC. And this year a major Hollywood superstar was among the tens of thousands of peaceful protestors who braved the snow!
Frasier Star Kelsey Grammer and his wife Katye participated in the March for Life last week.
Actor Kelsey Grammer is continuing to make good on his pro-life views – this time showing up to join with hundreds of thousands of pro-life people to march for Life on the horrific 43rd anniversary of legalized abortion. Grammer is best known for starring in NBC sitcoms Cheers and Frasier, and has garnered five Prime Time Emmy Awards and Three Golden Globes.

Grammer's wife Katye posted a picture of the couple in front of the main stage where speakers kicked off the March for Life before pro-life people lined the streets in a procession passed the Supreme Court.

"There are better ways to avoid pregnancy than abortion. We advocate those. We can respect a woman's right to choose and respect a child's right to life at the same time. They do not need to stand in opposition," Katye wrote on Instagram. "We need never kill another innocent life. Respect life."
Katye Grammer posted pictures to Instagram of the couple at the March:
Way to go Kelsey and Kayte for taking a stand for what is right, rather than kowtowing to Hollywood's ultra-liberal agenda like so many other celebrities!
Those of us who are pro-life know the truth- we are the ones who are pro-women and pro-science. We know that teaching women that they must get rid of their babies to be successful is not pro-women at all. That message just destroys and demeans women. And we refuse to buy the Left's narrative that these precious lives are a clump of cells when science and technology say the exact opposite!
I hope more smart and caring celebrities will be as courageous as Kelsey Grammer and stand up for the over 1 million innocent children who are being aborted every year!
(Photo: Facebook)
Read more on the Patheos Faith and Family Channel, fan me on Facebook and follow me on Twitter!