The first time I used 'The Tarot of Vampyres' deck by Ian Daniels (Llewellyn Publications), I fell in love with the gorgeous, detailed images and the meaningful passages full of insight and esoteric knowledge.  Yes, it's dark, but it's oh-so-beautiful.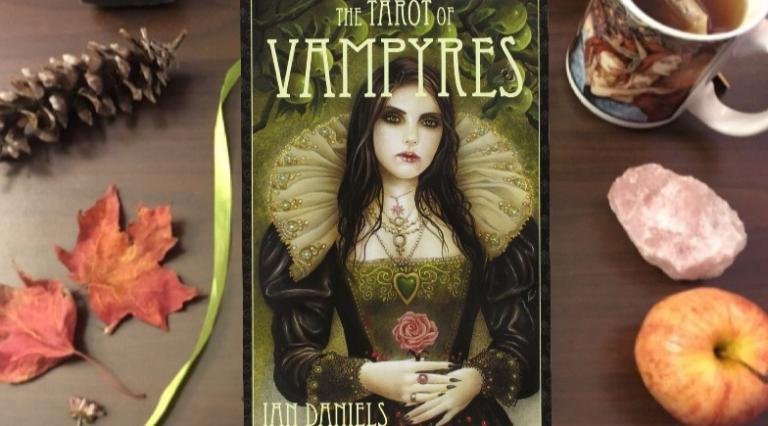 According to the stories, vampyres (or vampires) are creatures of the night who encounter the widest range of human conditions.  Due to their nature, they feel both the most ecstatic joy and the deepest sorrow and despair.  What better mythological creature to serve as an interpretation for the human psyche than a vampire, via the tarot?
Vampires are also reported to have a highly refined aesthetic sense of fashion.  This is reflected in the images on the cards.  The paintings glow with etherial flesh or burly muscles, and have a gothic style in the posing, backgrounds, and feeling.  But it's not just the beauty of the cards that draws the eye — it's also the energy behind the images, which reflects the meanings of the cards well.
The cards have an immediate intuitive draw (at least to me).  Every time I've used them over the past few months, I've experienced deep insight.  I regularly draw the same cards again and again.  As if to confirm this, the cards I draw from this deck are the same as the ones I've drawn from other decks — decks I've owned for years, or even decades.
There was no "warm-up" period with this deck.  I usually let a deck soak up my energy for a few days or weeks, or even months before I use it.  Not with this one.  It was ready to go right after I opened it and saged it.
While I adore and resonate with the images, I must say that the accompanying book, Phantasmagoria, has some of the most meaningful explanations of the tarot I've ever read.  I've been reading tarot since I was first given a deck at the age of ten — there's not much I don't understand about a card.  Ian Daniels managed to dive to the depths of every card and provide so much new insight.  The book is easy to read, and is generous with its knowledge, at 312 pages.
Even though I haven't owned this deck for very long, it's my current favorite, and that's saying a lot, considering how many decks I have.  While I probably wouldn't use this deck when I'm in mourning, it reflects my usual psychologically probing nature quite well.
The four suits are scepters (wands), knives (swords), grails (cups), and skulls (disks/pentacles/worlds).  The cards are smooth and silky, and are printed perfectly with a rose on a thorny background on each backside.
I give this deck 5/5 stars.  I highly recommended for anyone with a deep emotional nature and a love of gothic style.
Note: this deck should not be confused with the 'Gothic Tarot of Vampires.'
~ Starlight Witch ~