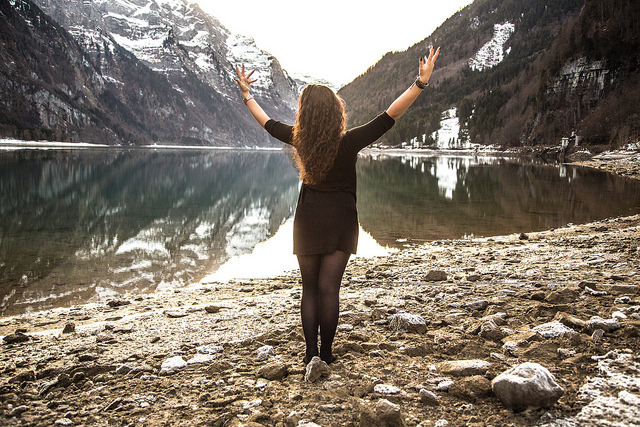 Inspiration in the Routine
I know people who perceive monastic life as a way to run away from everyday living. They think people become monks to avoid the stresses and strains of what the rest of us do.
It appears to them it must be easier to live without needing to make a living or raise children.
There are other people I know who think leaders have it made. For them, the world is divided into leaders and people who actually work for a living.
They think leaders tell people what to do and the rest of us do it.
Quite a few people have a dualistic perspective on life. Things are either one way or the other: on or off, white or black, right or wrong, light or darkness. People are either monastic or not, either leaders or not.
They see our experiences as either routine or inspiring.
Inspiring experiences change our lives. Routines, more of the same, make us less inspired.
Some of us look for inspiration outside the routine of our everyday lives. We expect other people or managed experiences to give us the inspiration we seek. Our lives seem to be dualistically separated into inspiring or routine times.
We are looking for leaders who inspire us, not merely tell us what to do.
One of the things leaders have in common with monks is they search for what is inspiring. As our everyday lives settle into a routine it becomes easy for us to miss the inspiration.
I see things differently. The leaders who inspire me look for inspiration in the routine. They understand life is not either/or, but both/and.
Finding Inspiration in the Routine
It is a challenge to find a more routine way of living than monastic life.
The schedule at the hermitage where I am a lay Oblate is based on a document written 1,500 years ago. There have been a few adjustments over time, but the routine remains the same.
Monastic routine is designed to help people find inspiration. There are times for reading and reflection, for praying together, and work and rest. People in the community do not need to be flexible or creative with their time.
Inspiration is the purpose of monastic routine.
My experience of monastic routine is different from how I experience routine outside the monastery.
I have worked places where routine and the boredom it produced were the enemy. There were places where I was micromanaged through measured routine. It was not inspiring. In other places, leaders tried to inject inspiration into the routine with planned celebrations.
The routine itself became a distraction.
When I spend time at a monastery, the routine serves as a framework and a support. There is no need to organize my day or analyze my goals and objectives. I do not even need to figure out what to say to other people. Monastic routine frees me to invest time more deeply than I usually do.
Monastic life creates opportunities for finding inspiration in the routine.
It is not the inspiration of the mountain top experience or the rush of adrenaline. We find inspiration in the monastic routine which reassures and confirms.
As we remember how to trust the framework of routine we discover the inspiration waiting for us. Our reading and reflection allow us to discern the truths we can apply in everyday life.
Like the monks, we listen for deep wisdom in the stillness.
The Power of Routine
I do not particularly enjoy daily routine. It is encouraging for me to see each morning as a new beginning, a new challenge. I enjoy doing something different each day. Following the same routine every day sounds a lot like being in a prison to me.
I do, though, have high expectations for being organized and prepared. It reassures me when things do what they are intended to do. Problems with my phone, with the computer, with the car can throw me off my game.
I appreciate it when someone tells me where we are going and lets me find my own way.
It could be I am happy to follow routine as long as I get to decide what it will be. Sometimes routine gets in my way and becomes an obstacle to overcome. I am comfortable with routine I create and find supportive.
Maybe our routine challenges are as much the product of our expectations as the routine itself. The differences between monastic routine and a daily routine like prison may be how we view them.
There are times when leaders lean on routine too heavily. Deciding what our routines will be is a powerful form of control. We need to create spaces for finding inspiration in the routine as we make those decisions.
We must recognize how powerful routine can be. One size does not fit all.
The Power of Inspiration
It can be a challenge for us to remember routine frames inspiration. As we reflect on our expectations we seek routine which sparks inspiration.
Inspiration brings out the best in people.
There is something deep within us which responds to inspiration. We may take comfort in the routine but our lives are changed by inspiration.
The leaders who inspire me find something in me I often do not recognize in myself. Each one identifies something to be developed, to be strengthened, to be sparked. Together we set aside the routine and ordinary to pursue what inspires us.
Inspiration may be a form of addiction. I am not necessarily certain what it is or why it happens, but I know I want more of it.
Part of the attraction is inspiration is outside our control. We cannot manufacture it or force it to happen. It feels, though, that we spend our time seeking it, desperately looking for our next dose.
We are willing to put up with everyday life until we can be finding inspiration in the routine.
What inspires you?
Where are we finding inspiration in the routine this week?
[Image by Wendelin Jacober]
Greg Richardson is a spiritual life mentor and leadership coach in Southern California. He is a recovering attorney and university professor, and a lay Oblate with New Camaldoli Hermitage near Big Sur, California. Greg's website is StrategicMonk.com, and his email address is StrategicMonk@gmail.com.