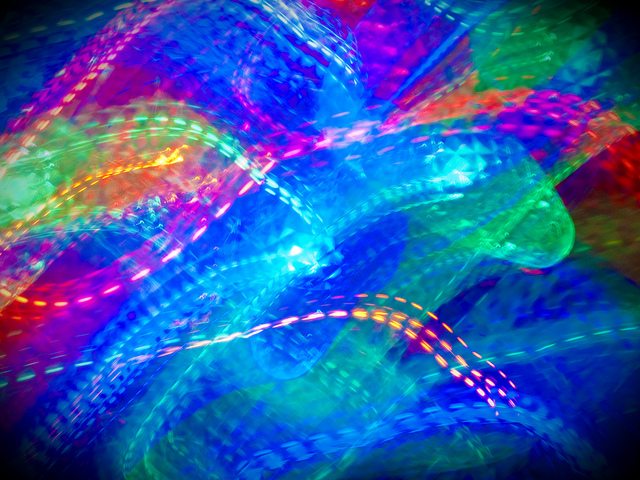 Coloring Outside the Lines
When I was a child one of the things I most enjoyed was coloring in coloring books.
I was a good colorer and could spend hours coloring. One of the key turning points in my development as an artist was learning not to color outside the lines.
My earliest work demonstrated a nearly complete disregard for the lines of the drawing. The focus appeared to have been on applying pleasing color across the face of the page. My method seems to have been to use a distinct color for each page. The lines of the drawing themselves were apparently not that important to me.
I was learning how to work in the medium of crayons and mastering their technology. It looks like my priority was to complete my work, and each book, as quickly as possible.
My early work which survives has a somewhat abstract expressionist quality.
Appreciating the significance of the lines in the drawings transformed my coloring dramatically. My work became, over time, more meticulous and more realistic.
I gained respect over time for the lines of the drawings. They were there, I realized, to support how I colored the page. The book was not only something to contain my coloring.
It may have been called a coloring book, but the lines defined the images on each page. The lines, in many ways, made my coloring possible.
Without the lines I would have needed to draw my own pictures.
The lines became more and more important to me. Coloring inside the lines was the right way and coloring outside the lines was wrong. I became a stickler for coloring the right way.
Learning to Color Outside the Lines
As I grew older my passion for coloring translated into other creative pursuits. It had been a long time since I had colored anything.
I spent one summer in college on Mackinac Island in Michigan. A good friend sent me a care package which included a Star Trek coloring book and a small box of crayons.
Though my excitement about coloring was changed, some of what I had learned still applied.
I worked hard not to color outside the lines, or at least not to get caught doing it.
The lessons coloring books had taught me shaped how I understood spiritual life.
I thought spiritual life was like the pages in a coloring book. There were obvious black lines which showed us where to color and where not to color. Staying inside the lines was the right way to live and going outside the lines was the wrong way.
I came to realize spiritual life is different from coloring books.
In coloring books the lines of drawings are printed on the pages. The lines are there to help us understand what to color and which colors to use. Without the lines of the drawings in the book, we would need to draw our own pictures.
The lines in coloring books are there to help us learn about shape and size.
The lines I found in spiritual life were less clear, less stable than the lines in coloring books. They had a way of changing size and shape in unpredictable ways. Lines I thought were a drawing of one thing became a drawing of something else.
It was more challenging to see and stay inside the lines of spiritual life than of coloring books. It was almost as if spiritual life was teaching us to color outside the lines.
Is Anything Outside the Lines of Spiritual Life?
The more I thought about the lines in spiritual life the harder it was to stay inside them.
In a coloring book, the drawings on the pages are separated. We can tell the difference between one page, one drawing and another. The lines serve as boundaries between the drawings.
In spiritual life it is usually difficult to tell where one thing ends and another begins. Shapes and sizes shift and change as we pay more attention or get distracted.
I would start trying to color one part of a picture but realize I was actually coloring a different part of another picture.
My experiences of spiritual life drew me to understand nothing is outside the lines. I would get close to where I thought there was a line and find it was nowhere near there. What I thought was a drawing of a house was actually a drawing of a fish.
Spiritual life is not like a coloring book for children. We may find spiritual life comforting, but we do not sit quietly coloring pictures.
Spiritual life is coloring and shaping us.
Exploring Outside the Lines
Spiritual life urges us to go beyond what we think we know, think we understand.
We are not sitting outside spiritual life trying to sort out where the lines are. We are drawn into the living, dynamic relationship of spiritual life. There is nothing beyond its boundaries, outside its lines.
The colors of spiritual life are not under our control. Sometimes red, sometimes blue, sometimes flashing, sometimes darker, spiritual life is alive with color. The shapes and sizes are changing and breathing, drawing us into connection.
Coloring books teach us about not going outside the lines. Spiritual life is all about seeing the lines are imaginary and we are free to explore.
The world does not fall into the neat categories of the pictures in coloring books. Our lives are complex and messy, filled with questions. Spiritual life will not give us simple answers, but point us to look in a new direction.
The lines we think stop us and hold us in are not really there.
The colors of spiritual life are more vibrant, more alive than I could create with my crayons. The drawings are more realistic because the lines do not stay in one place.
Are we coloring outside the lines of spiritual life?
What colors are we including in our picture of spiritual life?
[Image by SebastianDooris]
Greg Richardson is a spiritual life mentor and leadership coach in Southern California. He is a recovering attorney and university professor, and a lay Oblate with New Camaldoli Hermitage near Big Sur, California. Greg's website is StrategicMonk.com, and his email address is StrategicMonk@gmail.com.