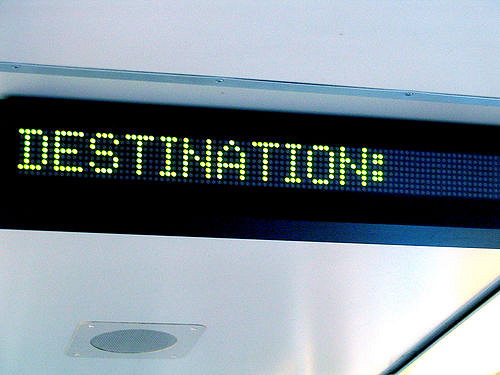 Where is Spiritual Life Taking Us?
One of the things I love about my work is when people share their questions with me.
They do not necessarily believe I have all the answers to their questions. I hope they appreciate I take their questions seriously and will not make up answers or lie to them. People often need help understanding their own questions and I help them think about questions in new ways.
Many of the questions people have boil down to asking Where is spiritual life taking us?
Some people look at spiritual life as a system of rules or advice designed to guide our behavior. We may be convinced spiritual life is intended to get us to act in certain specific ways. If we do these things, and do not do those things, we will arrive at our destination.
It is easy for us to see ourselves, if spiritual life is about getting us somewhere, taking steps toward a goal. Some of us even see ourselves moving closer or further away from spiritual life throughout the day.
We may take comfort from the idea we are on a lifelong journey toward our destination. Some of us like to feel we are making progress and getting closer to spiritual life.
If it is moving us somewhere, where is spiritual life taking us? Is there a map we can follow?
How do we know where we are on our journey and whether or not we are getting closer to our goal?
Some of us have been on a spiritual life journey for a long time and are starting to feel frustrated or lost. We have questions about whether this trip is even real, whether there really is a goal at all.
We might be almost ready to turn around and go back.
Is Spiritual Life Taking Us Anywhere?
Some of us have particular questions about contemplative spirituality. If spiritual life is taking us somewhere, how does contemplative spirituality help us get there?
We may not experience how the rhythms of contemplative practices help us make progress on our journey.
A more contemplative understanding helps us appreciate where spiritual life is taking us.
As we develop our own contemplative practices, and learn about other people's, we begin to see things in new ways. Spiritual life is not necessarily taking us from one point to another toward a destination.
We may question how we see spiritual life taking us anywhere at all.
Our spirituality sends roots down into the fertile soil of contemplative life. We learn to listen to sacred stillness, to give our consent to the presence and action of spiritual life within us.
Spiritual life opens to us like a flower or a bouquet or even a field of flowers. The colors and aromas of spiritual life fill us.
We begin to recognize the journey of spiritual life taking us not from one place to another, but deeper. Spiritual life guides us into a deeper understanding of ourselves, other people, and the world around us.
Our adventure is spiritual life taking us into a more intimate relationship with who we truly are. As we get to know ourselves we find new levels of our relationship with spiritual life.
We are not on a journey with a fixed destination.
Each step we take opens new possibilities, new opportunities for us to explore. We find we have potential beyond anything we imagined.
The key for us is beginning to see and experience spiritual life in a different way.
How is Spiritual Life Taking Us Toward a New Destination?
Spiritual life is not a checklist or a set of rules to follow to take us to a specific goal. There is no list of simple, easy to remember steps to ensure we live lives of spiritual satisfaction.
We do not receive a guarantee of fulfillment or comfort for staying inside the boundaries of spiritual life. Far from being the solution to all our questions, spiritual life sparks new questions in us.
Our actions do not determine how we relate to spiritual life. In fact, it is our reflection and insights about spiritual life which shape our behavior.
Spiritual life shows us the insights and questions which fuel our reflection and which we apply in practical ways.
Practicing contemplative life is not about promising to go without things. We listen to sacred stillness within us and around us and put the lessons we learn into practice.
The steps we take each day do not lead us on a trip to a destination. Each day we take steps which help us become deeper and more healthy.
Our new destination is not somewhere at the end of the road. We carry our destination within us and all around us. Our goal is not arrival at the end of our journey, but balance and depth.
Spiritual life is at work in us, taking us home.
Why is Spiritual Life Taking Us on This Journey?
Many of us want spiritual life to answer our questions and make us feel better, more comfortable. We are looking for a soft and cuddly spiritual life which resolves our doubts and confusion.
My experience of spiritual life is more complex, more vibrant than that.
There are times when spiritual life reassures and comforts us. Spiritual life is something I can hold onto when I am struggling or doubtful. I have wrapped myself in spiritual life like a warm, familiar blanket.
It is impossible for me, though, to fit spiritual life into a box. Sometimes comforting and sometimes afflicting, spiritual life can be brutally honest.
My relationship to spiritual life grows from that honesty. I know I can trust spiritual life not to tell me a lie. Even when I feel completely alone, spiritual life is with me.
I know spiritual life is taking me home, where I most want to go.
Where is spiritual life taking us today?
How is spiritual life taking us home this week?
[Image by David Salafia]
Greg Richardson is a spiritual life mentor and leadership coach in Southern California. He is a recovering attorney and university professor, and a lay Oblate with New Camaldoli Hermitage near Big Sur, California. Greg's website is StrategicMonk.com, and his email address is StrategicMonk@gmail.com.