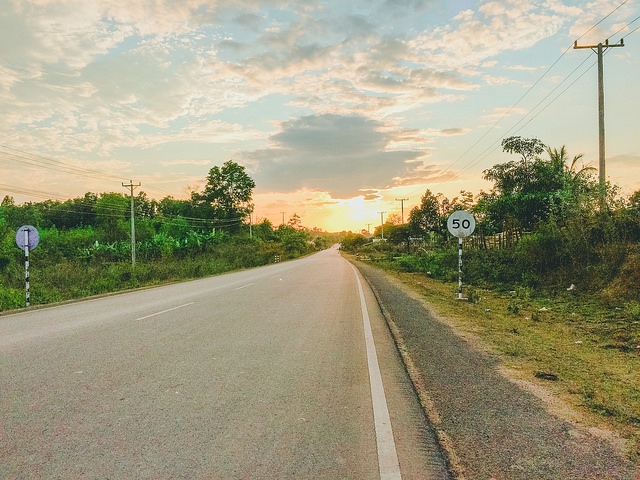 Heading Toward Home
I grew up in a place where the month of October meant it was time for Homecoming.
Homecoming was a weeklong experience. Each day of the week celebrated something unique and specific. Homecoming culminated on Friday with a parade and a football game and a dance.
People who had gone away to school or jobs made their way back to town to help celebrate Homecoming.
It has been quite a few years since I have returned to where I was raised. I still remember the experience of heading toward home.
Now it takes me at least one plane flight and some driving to go back physically. It is a place where some people still recognize me, but I am not sure it is still home.
I have had a similar experience with spiritual life. There are ways I was taught to believe and understand spiritual life, but they are not really home for me. It took me a good deal of exploring and asking questions to discover and start heading toward home.
The place where we are born may not be home for us. Many of us find spiritual life drawing us away from what is familiar into challenging new places.
We have lessons to learn and deep truths to discover. Some of us have assumptions and preconceived notions to question and explore. Our experiences may stretch us beyond the point where we think we will break.
We may not enjoy where spiritual life takes us. Eventually we begin to realize we have been heading toward home.
Where is spiritual life taking us this week? Are we heading toward home?
How will we know when we get home, and what path will we follow to get there?
Are We Heading Toward Home?
The last time I went back to the place, to the house, where I grew up was almost ten years ago. It was for my mother's funeral and it was in January in Wisconsin. When we got on a plane in Los Angeles that morning the temperature was already 80ºF. Arriving in Wisconsin, we were greeted by 20º below zero.
It almost seemed like buildings and places where I had grown up and gone to school had been rearranged. What had been so familiar to me was now unfamiliar.
The way I understood and experienced home had changed dramatically.
Part of what I felt came from having been away for so long. I had visited many other places and experienced so much since the I had been there last. There were things I had outgrown or forgotten, things I had not realized the last time I was there.
My hometown was no longer my home.
Spiritual life is like that for me as well. Beliefs and ideas about which I used to be certain have changed. Where things used to be so clearly defined I find ambiguity.
We may feel the world, including spiritual life, is changing too quickly, too dramatically, for us. Some of us would like to go back to being comfortable and certain again.
As our relationship to spiritual life grows and deepens, becoming stronger, we see new truths in new ways.
We may not be able to see our goal, or even the path in front of us. Can we trust we are heading toward home?
How can we know whether we are going where we want to go?
As spiritual life lives within us we learn its rhythms and patterns. Each day we decide whether, and how far, we can trust spiritual life.
How Are We Heading Toward Home?
Some of us feel like spiritual life is leading away from home. We may be surrounded with words we have never heard before or with new experiences and questions.
Rather than feeling like we are heading toward home, we may feel lost and confused. Our trip home may not be easy or comforting or familiar to us. We may be heading toward home when we have never experienced it before.
Many of us do not know where our home is anymore. We may have lost it or never known our home at all.
We experience a form of spiritual homelessness and are not sure where in the world we can find shelter.
The challenge for us is heading toward home while we simultaneously discover our path. We are on a journey of discovery which is neither guided nor constrained by directions for us to follow.
Spiritual life continues to draw us toward our Homecoming.
We Are Each Heading Toward Home
Each of us has our own uniquely personal understanding of home.
For some of us, home is a place of safety and security where we can rest. Others experience home as a place of unconditional acceptance. We may see our home as determined by the people around us or by a particular place.
Our home may be a matter of tasting a specific food or hearing a certain piece of music. Home may be a matter of what we see or smell or the emotions we feel.
We recognize we are heading toward home when we find ourselves getting closer to our own true selves.
Some of us may not have a clear understanding of where our home could be. It has been a long time since we felt at home.
Spiritual life is at work in us helping us remember and continue heading toward home.
Our journey home is not a simple, easy walk from here to there. There is no express lane and no app to help us find our way. We are often not sure we know how to get home.
When we feel most confused and lost spiritual life reminds us we are heading toward home. We pause to listen and remember and spiritual life feeds the fire in our hearts.
Heading toward home is about taking our next step.
How are we heading toward home today?
What does heading toward home mean for us this week?
[Image by Cẩm Vânnn]
Greg Richardson is a spiritual life mentor and leadership coach in Southern California. He is a recovering attorney and university professor, and a lay Oblate with New Camaldoli Hermitage near Big Sur, California. Greg's website is StrategicMonk.com, and his email address is StrategicMonk@gmail.com.