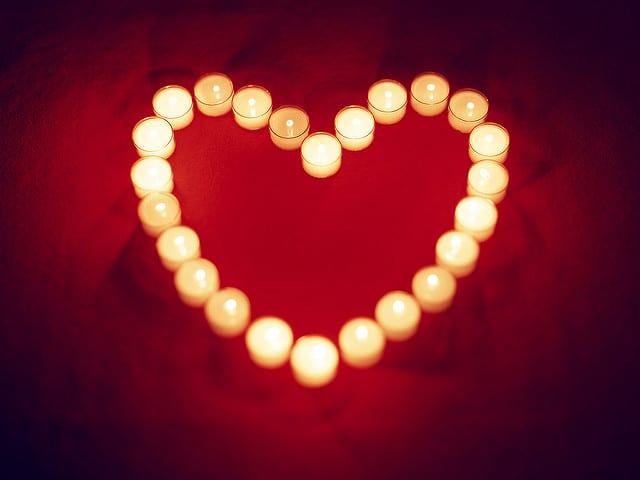 The Burning Fire of Love
Love means different things to different people.
Some of us see hearts and flowers while others taste very dark chocolate, sweet as well as bitter. Many of us see another person's face, or the light in a child's eyes. We may find love in our dog or our cat. Some of us think of bodies coming together and making love. For some love is romantic, a grand passion.
There is loving another person, loving our family, loving our neighbors, loving our country, loving our enemies. We may love people in general, love the earth, love God, love ourselves.
We might think of enduring love, of love as the foundation stones of our lives. Some of us see love as vast and overwhelming, like an ocean or a mountain. Love could be the marathon we are running, or a sprint which takes our breath away. We have heard complete love casts out fear, and all we need is love.
I see love as the burning fire of love.
People and ideas we love fill our lives. We live surrounded by darkness which shines with a multitude of candles. Their flames spark the burning fire of love in my own heart.
We are on an continuing journey which includes places of overwhelming beauty and wonder. I have had the joy and privilege of visiting great cities, remote vistas, deeply spiritual monasteries, rugged coastlines where the ocean embraces the land.
Surrounded by friends and family, by people who spark the burning fire of love in me. They inspire me even when we have never met in real life. People share valuable lessons with me, trust me with their deepest secrets, and help me appreciate who I really am.
The burning fire of love lights the path we are walking together.
Living Into the Burning Fire of Love
We hear some people say spiritual life is all about love. Some of us believe it, but it can be easy to forget.
Most of us have been taught to experience love as a way we feel. Our love may make us feel warm and tingly, or deeply satisfied. Love can be an amazing feeling, a strong feeling, but it fades as we start feeling something else.
The fact is love, including the love filling spiritual life, is not about feeling a certain way. We know love is stronger and more true than how we feel. Love is about knowing and being known.
Our love grows in intimacy and depth of understanding. What, and who, we love shapes us. We also shape who, and what, we love.
The fire of love is at work within us.
We grow in love for ourselves as we begin to know our true selves. Our relationship with ourselves deepens. We recognize and appreciate ourselves in new ways. As we listen to our own inner voice, the reality of who we are becomes clearer.
Learning to love other people is similar to the way we learn to love ourselves. We listen, we develop relationships, we share our true selves with the people around us. As we see and value people differently our ability to love grows. Our openness to love helps them share their best with us, and helps us treasure what they share.
As we learn to love more deeply, we begin to see the world around us differently. We have come to assume the world is a dangerous place, filled with threats and violence. Dangerous things do happen.
Our ability to love does not prevent pain or loss. The fire of love burns away what distracts us.
Lighting the Fire of Love Within Us
Lighting a fire requires only three things. We need to provide fuel for a fire to burn, enough oxygen for a fire to breathe, and a spark to get a fire started. With those three elements we can light a fire in a fireplace or on a candle and sit watching it in contemplation.
Our contemplative practices help us meet the needs of the fire of love in our hearts and souls.
The people we know often spark the fire of love in our hearts and it spreads to new places within us. Reflecting on our experiences and our memories gives fuel to the fire of love. We take time to listen to sacred stillness and allow the fire within us to breathe.
There may be times when we feel like the fire of love within us has burned itself out, or nearly out. Some of us feel we are pulled in so many directions or facing so many challenges. We may feel the fire of love dying within us because we are struggling to put out so many other fires.
The fire of love within me needs a regular supply of fuel, breath, and inspiration.
Sharing the Fire of Love
Our first step in sharing the fire of love which burns within us is making sure it remains strong. We do not share our love well when we are on the verge of burning out.
It is also important to recognize not everyone will accept what we hope to share. The fact people are each free to respond in their own way is central to the meaning of love.
We do not experience it as loving when someone else tries to determine how we will respond to them. Being open to other people is part of the essence of love.
Sharing the fire of love is celebrating an essential part of ourselves. The fire of love burns within us and in the world around us. Love unites us and each of us loves in our own personal ways.
The fire of love warms our hearts and lights our minds.
We share the fire of love which burns within us and it lights the path we are walking together.
How will we keep the fire of love burning within us today?
When can we share the fire of love burning in us this week?
[Image by johnlemon]
Greg Richardson is a spiritual life mentor and coach in Southern California. He is a recovering attorney and a lay Oblate with New Camaldoli Hermitage near Big Sur, California. Greg's website is  StrategicMonk.com, and his email address is StrategicMonk@gmail.com.