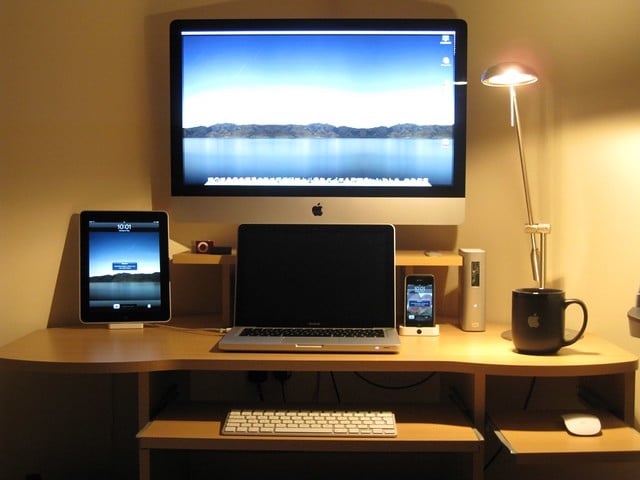 The Stillness of Empty Screens
One of the contemplative practices with which I have struggled the most is the practice of writing.
It was years before I could say the sentence, "I am a writer." out loud. The part of writing I enjoyed the most was finishing something, not needing to write any more.
I saw myself as more of a reader than a writer, giving voice to other people's words.
Now I am becoming a writer. I practice sitting with the stillness of empty screens, listening to hear what I have to say.
Like any other contemplative practice, I commit myself to write at certain times. Over time I am becoming more open to spiritual life in writing. In the same way a centering prayer practice opens me to praying, a writing practice opens me to writing.
For me, keeping a journal was not a contemplative writing practice. I would pay too much attention to grammar and style, spelling and punctuation. The long history of spiritual journals weighed me down.
My practice has become two or three blog posts each week, along with a few additions. I began with discipline and a commitment to writing regularly. My practice develops as I learn and grow as a writer.
Several times a week I sit with the stillness of empty screens and look for something to say. Some days my practice flows from a particular memory or a specific idea. Other times I reflect on how concepts merge and dance together. Sometimes it is a photo which sparks my writing practice.
No matter what inspires me to begin, there is listening to the sacred stillness of empty screens.
I listen, waiting for things to come together and for the smile and the twinkle in my eye. Slowly, words begin to fill the screen.
Responding to the Stillness of Empty Screens
There are people who are intimidated and paralyzed with fear by empty screens.
They experience empty screens like standing in front of a group of people and not knowing what to say.
The stillness of empty screens can be daunting. It helps to remember, though, everything begins with empty screens.
When we sit and listen to the stillness of empty screens we have an opportunity to imagine. Empty screens tell us we can write about anything, our potential is not restrained.
Some people look at an empty screen as a perfect world in which no mistakes have been made yet. While it may be a challenge to see them, there might be mistakes hiding there in the stillness.
Putting something imperfect on the screen is not the only mistake we can make. It may be we could have written something which would have inspired someone, including us.
Empty screens are not significant because they preserve some perfect, pure status. We do not use our screens as ways to memorialize or hold onto the unadulterated state of emptiness.
Some of us are surrounded by empty screens because they allow us to create, to fill them.
The power of all these empty screens is in how we respond to them.
If we allow them to intimidate us they will never reach their potential, and neither will we.
We do not need to have finished all our thinking before we sit done at our screens. The screens work with us and help us create.
Writing and creating are contemplative practices. We sit down with the stillness of empty screens and become open to spiritual life. Listening to the stillness allows us to explore the depths of spiritual truth around us and within us.
We listen and we respond.
Exploring the Stillness of Empty Screens
I sit down and look into the stillness of an empty screen. There are times when the emptiness is a window on depths of spiritual truth for our reflection. Other times the empty screen is a brick wall blocking the way forward, especially as a deadline grows close.
Sometimes an empty screen is a mirror, showing me what needs more of my attention.
We are adept at filling our screens with distractions and entertainments. Suddenly we remember something we want to research or which sparks our curiosity.
Many of us have our favorite ways to glimpse the familiar reaches of the Internet. We have grown comfortable consuming whatever our screens feed us.
A contemplative practice of listening to the sacred stillness of empty screens leads us away from the familiar. We listen to the stillness and explore places we have ignored.
As we listen stillness wells up within us and in the world around us. I sit with stillness waiting for ideas and the words to express them to come to me. You read them and, I hope, listen to the sacred stillness within yourself.
The stillness within you embraces the stillness from my empty screens.
Listening to the Stillness of Empty Screens
What does sacred stillness stir within us?
Our contemplative practice of listening to the stillness of empty screens shows us what they hold. We are not simply staring into a screen absorbing whatever it shows us.
The stillness of an empty screen prompts us to listen to what it is telling us. We take our time, breathing deeply, and listen to hear its message, its lessons. The stillness of a screen is the same as the sacred stillness within us and in the people around us.
Each day the stillness of empty screens has something to tell us. It may be what it has told us before but we were not paying attention. We may discover new truths in an empty screen.
I spend time listening to the stillness of an empty screen and spiritual life reveals itself to me. Taking time to reflect and listen, I begin to write.
Words arrive and begin to fill the empty screen.
What do we see and hear in the stillness of our empty screens today?
How will the sacred stillness of empty screens inspire and shape us this week?
[Image by iCork]
Greg Richardson is a spiritual life mentor and coach in Southern California. He is a recovering attorney and a lay Oblate with New Camaldoli Hermitage near Big Sur, California. Greg's website is StrategicMonk.com, and his email address is StrategicMonk@gmail.com.