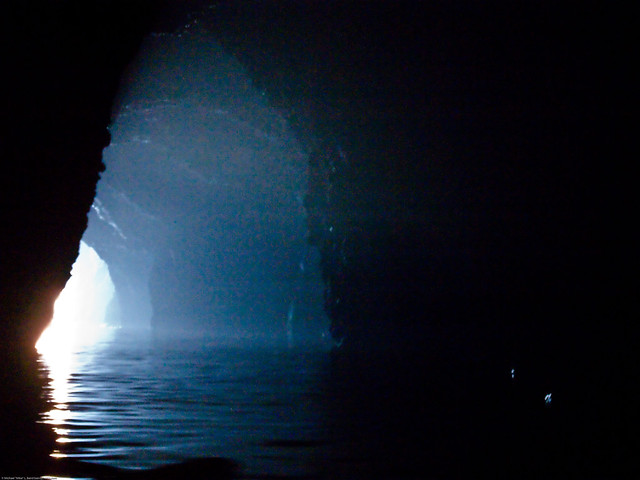 Sacred Stillness is Like the Ocean
Oceans make a deep impression on us.
I grew up surrounded by fields of productive farmland, as far as your eyes could see, with only occasional buildings. The woods and the lakes were great, and cities were amazing, but there was no ocean.
The first time I ever saw an ocean was from an airplane. I became more familiar with the Atlantic, and have visited the Gulf of Mexico. Now I live within easy driving distance, depending on traffic, of the Pacific.
Oceans are overwhelming. They stretch out from the shore farther than the eye can see. Some days there is no boundary between the water and the sky, and they can seem even more endless.
I could watch the ocean for hours. It has its own unique sights, scents, sounds, sensations, and experiences. Its vastness creates space to be quiet and listen.
It is impossible to tame an ocean. Oceans sparkle in the sunlight and are filled with life. An ocean can be dark and menacing without warning. Oceans give us life, and they can take it away.
I connect with oceans and they connect with me. It is as if there is an ocean in me, mirroring the Pacific. Some days I am riding the waves, and other days I am almost adrift.
Slowly and surely, the ocean wears away at the shore which the continent pushes into its path. The long, enduring stories of our lives are played out each day along the shore. We are driven forward and worn away. Our stories are beautiful in their drama and simplicity.
We sit breathing in the ocean's depth and it calls to what is deep within us.
When we practice listening to sacred stillness it is like standing on a beach looking out to sea.
The Ocean in the Sacred Stillness
There are times when our contemplative practices of listening to sacred stillness are like storms at sea. Waves crash and winds blow, knocking us off our feet and tossing us around.
We wonder whether we are safe. Can we weather the storm of our thoughts and feelings and words? When will we be able to give our attention to sacred stillness?
Sometimes we realize our practice has been skimming along the surface of stillness. We are enjoying our ride even though there is so much more for us to discover. There are times when we want to stay in one place and explore its depths. We have been so busy gliding across the top of the stillness we have missed what is underneath.
Some of us listen like we are trying to get across the ocean of sacred stillness. We have places to go and people to see, and a schedule we want to keep. If we take time to really listen we might fall behind.
It can be a challenge for us to remember we are not tourists seeing the sights or collecting experiences.
Our practice of listening to sacred stillness is exploring an ocean far larger and more complex than any body of water. It is filled with life and sustains us.
Some of us have never visited an ocean, never experienced what it looks or smells like. Even those of us who have never seen an ocean still believe they exist. We may have tasted food from an ocean or heard the sounds they make.
When we listen to sacred stillness our contemplative practice shows us how to open ourselves to its depth. Listening, the power of stillness resonates with us. Our practice allows us to hear the stillness which comes after the storms.
The Ocean of Sacred Stillness Within Us
Some of us are intimidated or afraid to listen to sacred stillness, just as people are afraid of the ocean.
We fear we could be carried to places we do not want to go or drowned in the sea of stillness.
It is not surprising when we feel overwhelmed by the sacred stillness we find all around us. The stillness is vast and full of power. It makes sense for us to be afraid of something so much larger than we are.
We feel insecure in the face of something which can lift us and take us away. Many of us experience sacred stillness as something outside ourselves, something strange and unfamiliar. We try to hide ourselves in a blanket of distractions.
The thirteenth century poet, jurist, and theologian Rumi said, "You are not a drop in the ocean. You are the entire ocean in a drop."
Sacred stillness is not something overwhelmingly new or outside our experience. We are not a drop in the stillness we find. We are the sacred stillness in a drop.
When we practice listening the stillness within us recognizes the stillness in the world around us.
Standing to Listen at the Edge of the Ocean
We feel the sun on our faces and the sand under our toes. The sound of waves and the aroma of sea air draw us into listening.
Closing our eyes, we breathe deeply and listen to the ocean of sacred stillness. We can taste the salt on our tongues and feel the rhythm of stillness around us and within us.
Nothing inside or outside us can distract us from listening to sacred stillness. We open ourselves to stillness, allowing it to wash over us and restore us.
The sound and rhythm of stillness help us recognize this is where we are from. Even those of us born surrounded by fields and barns are products of an ocean of sacred stillness.
Standing on a beach listening to an ocean of stillness is not a vacation. We are returning home.
There is no need to fear what we find in sacred stillness. No matter where we look we find parts of ourselves we left behind.
When will we take time to listen to our ocean of sacred stillness today?
Where can we stand on a beach listening to the ocean of stillness this week?
[Image by mikebaird]
Greg Richardson is a spiritual life mentor and coach in Southern California. He is a recovering attorney and a lay Oblate with New Camaldoli Hermitage near Big Sur, California. Greg's website is StrategicMonk.com and his email address is StrategicMonk@gmail.com.