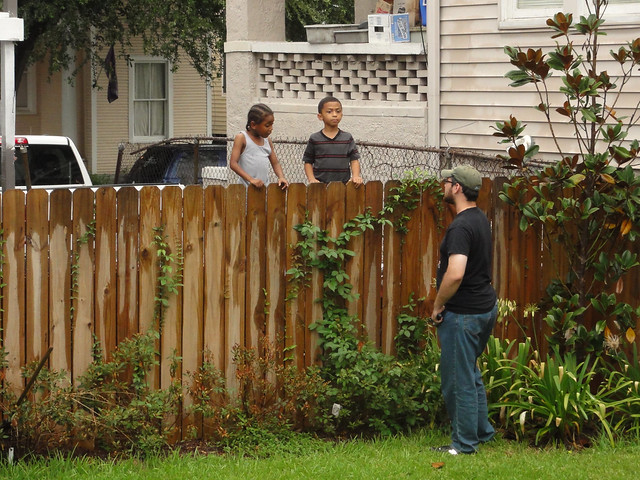 Are We Good Neighbors?
For many of us there are specific practices which are basic to spiritual life. We ask ourselves how we can recognize spiritual life in anyone who does not follow this practice or that.
Some of us expect to see spiritual life in practices with which we grew up. Others of us look for practices we have discovered as indicators of spiritual life. We might see spiritual life in how people pray or how they read or how they sing.
There are many different disciplines toward which spiritual life draws us. One of the most basic spiritual practices, regardless of our particular religious tradition, is being good neighbors.
Most of us believe we are good neighbors. Whether or not we know the names of the people who live next door, we see ourselves as being neighborly. For many of us, being good neighbors is about not making too much noise too early in the day. We think we are good neighbors because we do not cause problems and do not interfere in other people's lives.
Some of us look at being a good neighbor as a responsibility, a duty. It is something we choose and decide when to do.
How do our neighbors really see us? What does it mean to be a good neighbor?
Earlier this week officers from ICE arrived to arrest an undocumented man near Nashville. That man's neighbors stood in front of the house and help hands for several hours to protect him. The officers backed down after four hours.
Were the people who protected that man good neighbors?
How do we differentiate between people who are our neighbors and people who are not?
What responsibilities come with being good neighbors?
Can we practice being a good neighbor? How is being a good neighbor spiritual?
We Practice Being Good Neighbors
Sometimes our neighbors move away.
They were our neighbors because they lived next door. We said hello, exchanged pleasantries, wrangled packages that were delivered during the day.
I know most of the people who live in the building by face, though not by name. I do not really know anything about them, though I can guess a few things.
My neighbors are from all over the world. I walk in my neighborhood, and hear telephone conversations in various languages and at odd hours because of time differences. My friend Reem, from Palestine, cuts my hair. The food choices are amazing.
Are we neighbors because we live in the same neighborhood?
While I might not really know the people who live near me, I build strong friendships and partnerships with people who are far away. There are "friends I have never met" across the United States and around the world. I have ongoing conversations with people face to face and by instant message in Massachusetts and Maryland, in Indonesia and Beirut. I chat with friends in Canada, the United Kingdom, Australia, and all over the United States.
Are we neighbors because we tell each other the truth?
Being a good neighbor takes effort. For me, being a neighbor has a lot to do with listening. Sometimes being a good neighbor means not getting as frustrated when someone cannot get their garbage into the dumpster, or smokes where they are not supposed to smoke; sometimes it means not doing things that frustrate other people.
Learning to be good neighbors can be a step in a positive direction. It is a step each of us can take.
Being a good neighbor is a lesson even countries or political parties could learn.
What can we do to practice being good neighbors?
Becoming Good Neighbors
It can be a challenge for us to become good neighbors. We may need to learn, or unlearn, lessons about how to be neighborly.
Many of the neighbors I most appreciate begin with empathy and understanding.
We live in a world where many of us can be afraid of our neighbors. It is important for us to be realistic. There are people in the world of whom we probably should be afraid, and we might meet some of them. We need to use our good judgment and common sense.
Most of the people we meet are not people we need to fear.
Becoming good neighbors is not primarily about the people we meet. How we understand and approach becoming a neighbor says more about us than it does about our neighbors.
What kind of neighbors do we want to become? How can we practice becoming the good neighbors we hope to be?
We become good neighbors by reflecting on how we see neighborliness and putting what we see into practice.
By becoming good neighbors we help fill the world with good neighborhoods. The ways we relate to our neighbors reflect how we approach the world and ourselves.
Good Neighbors and Spiritual Life
We become good neighbors by understanding our own core values and putting them into practice.
When we are honest and authentic with our neighbors we address and resolve conflicts. Being able to understand life from someone else's perspective helps us respond when they need us.
Being good neighbors is a relationship. There is no comprehensive set of rules or instructions for being a good neighbor. We get to know the people around us and begin to open ourselves to them. Gradually we start to see our relationships to them in new ways.
Love is an essential element of spiritual life. We put love into action in the ways we practice being good neighbors.
Spiritual life is at work in us to reshape how we relate to the world, the people around us, and ourselves. Our days are filled with opportunities to rebuild our relationships with our neighbors.
There is nowhere we can go to remove ourselves from the world around us. We take it with us wherever we go.
The world needs more good neighbors.
What will we do to be good neighbors today?
How can we become good neighbors this week?
[Image by Editor B]
Greg Richardson is a spiritual life mentor and coach in Southern California. He is a recovering attorney and a lay Oblate with New Camaldoli Hermitage near Big Sur, California. Greg's website is StrategicMonk.com and his email address is StrategicMonk@gmail.com.