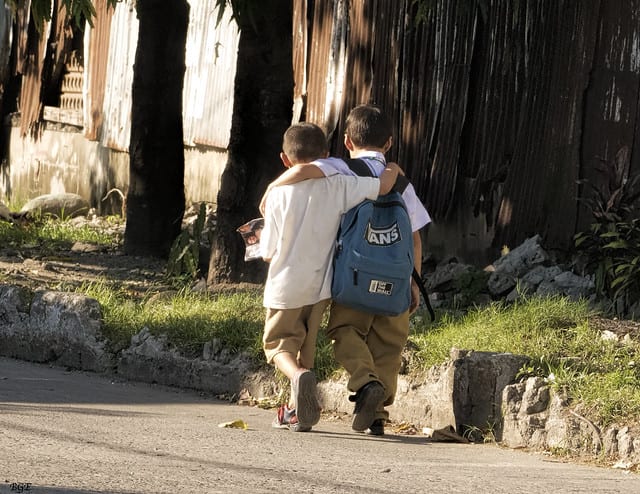 Making Friends With Stillness
We have created a world which is not friendly toward quiet.
Two of our favorite spectator activities, sports and politics, have become opportunities for arguing and complaining. We fill our lives with technology which seems designed to ensure we will never experience stillness.
It is as if our culture were dedicated to eliminating even the smallest experience of quiet reflection.
People who seek quiet are countercultural. Many of us look on those who develop a contemplative practice of listening to sacred stillness as a little odd.
We may experience a lack of noise as intimidating or even frightening. Most of the people we know try to keep their distance from quiet. We feel more comfortable surrounded by music or a podcast, a video or even a conversation.
Many of us have an adversarial relationship with quiet. It gives us a sense of foreboding or anxiety. We experience stillness as something which needs to be filled.
Why would anyone want to make friends with stillness? What benefits does it have for them? Where does it allow them to go?
Many of us become friends with people who make us feel comfortable, who put us at ease. Some of us prefer to spend time with friends who are entertaining.
Others of us look for friends who bring out the best in us.
We develop friendships which encourage us to seek new adventures and consider new ideas. Our friends challenge us to explore places in the world and within ourselves we have never seen before. We make friends with people who help us become our truest selves.
Some of ur friends show us the most significant lessons we ever learn. They sit with us as our pain slowly becomes transformed into wisdom.
How Do We Make Friends With Stillness?
We may understand why we would like to make friends with stillness but not know how to do it. Our lack of experience and familiarity makes it difficult for us to be friendly.
The first step in making friends is letting go of our fear and anxiety. It is intimidating to listen to quiet when we have not been exposed to it before.
Some of us approach quiet the same way we approach classical music. We assume we will not enjoy it and listening will be boring.
Making friends with stillness is like becoming friends with anyone else. After we let go of our fear, the next step is spending time together.
Almost all the friends I ever made were because we spent time together. Sometimes in person and sometimes electronically, our friendship grew as we talked and interacted. We discovered we shared interests, had read some of the same books, or enjoyed the same movies.
As we spent time together we learned how to listen to each other. Our listening showed us the gifts we offered to each other and strengthened our friendship.
Listening is essential to making friends with stillness. It is a shy, introverted friend who requires patient, serious listening.
It is easy for us to distract ourselves and miss what our friend has to tell us. All the ways our culture fills our days with noise make it difficult for us to pay careful attention to stillness.
We learn to listen and share more of ourselves as our friendship becomes stronger. We move beyond being polite and cordial to deeper honesty and authenticity. As we become better friends our friendship becomes more transparent.
Gradually we begin to see each other as we really are and show each other our true selves.
Our friendship becomes more intimate.
Is Sacred Stillness a Good Friend?
Being friends with stillness is not an easy relationship. Quiet is not one of those friends who always tells us what we want to hear.
It is a relationship which changes how we see our potential again and again over time. A contemplative practice of listening to sacred stillness develops our ability to be open to spiritual life. Each time we listen is a lesson in being open. We listen and our friend stillness shows us something new.
It is not about closing our eyes and having our hearts or minds filled with special effects. One of stillness' greatest strengths as a friend is how quiet it can be.
Making friends with stillness is filled with opportunities for listening and quiet. We sit still, take deep breaths, and close our eyes. Deciding not to pay attention to distractions, we practice listening on another level.
Even as distractions flood in, trying to get our attention, we listen to our friend. Our friend is honest with us, sometimes telling us thugs we do not want to hear.
We listen, trusting our friend to tell us what we need to hear. Stillness is a good friend.
Stillness Helps Us Become Better Friends
Making friends with stillness has helped me become a better friend to myself and to other people.
I am a better listener than I used to be because of my contemplative listening practice. Our friendship teaches me valuable truths and reminds me about them each time I practice. I pay better attention to myself, other people, and the world around me because I am a friend of quiet.
Making friends with stillness has taught me to appreciate quiet.
I am also becoming a better friend as my friendship with stillness grows deeper. Making friends with sacred stillness helps me become more understanding. I am learning how to be flexible and clear at the same time. It is one of those friendships which changes how I see and understand myself.
We practice listening and making friends with stillness. It is not the intimidating, frightening entity we assumed it was, but a good friend. Our friendship grows over time.
Our friendship grows stronger and we begin to wonder why we did not start listening to stillness earlier.
When will we make friends with stillness today?
How will our friendship with stillness help us be a better friend this week?
[Image by Beegee49]
Greg Richardson is a spiritual life mentor and coach in Southern California. He is a recovering attorney and a lay Oblate with New Camaldoli Hermitage near Big Sur, California. Greg's website is StrategicMonk.com and his email address is StrategicMonk@gmail.com.