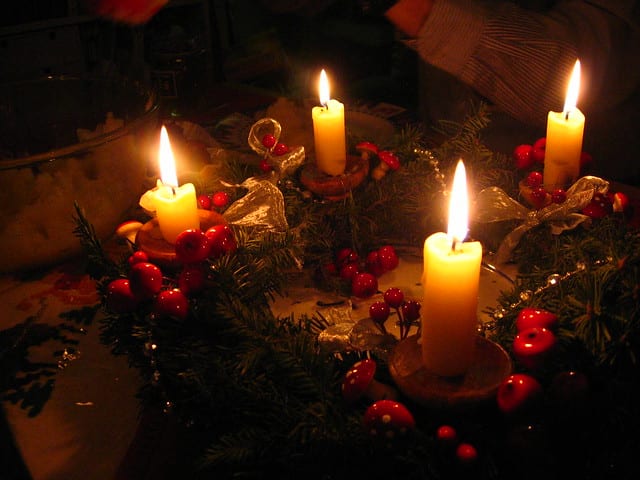 Backing Our Way Toward Advent
It may be because some of us are afraid of the dark or afraid of running out of time.
Darkness grows as we enter the final month of the year and approach its end. Each year ends in a race to see which will run out first, time or light. Our calendar is apparently not about helping us be more comfortable or secure.
Many of us try to ignore our fears by jumping into what we call the holiday season.
Though our holidays arrive each year, we are never really prepared for them.
We leap into a frenzy with which we numb our anxiety and lose track of our discomfort. With so many things which need doing there is not enough time to experience each one. Our holidays blend together, each one becoming just another excuse to spend and consume. We lose ourselves in a rush of costumes and candy, turkey and football, carols and shopping.
Many of us transfer our anxiety and fear, blaming it on our holidays. People talk about "getting through" or even "surviving" the holiday season.
The liturgical season of Advent is the opposite of all of that.
In Advent we take time to prepare and anticipate. It is not the anticipation of eagerly reaching forward, trying to hasten the arrival of the present, the gift, the payoff.  It is the savoring of anticipation, recognizing it and letting each day tell us its lessons. Advent is rooted in our mindfulness of the present moment, not our desire for the future or regret about the past.
Advent shows us how to anticipate without rushing.
Above all, Advent is about combining the challenges and joy which come from waiting and preparing in anticipation. We are quiet enough to listen, yet expectant enough to continue.
Where Does Advent Take Us?
We do not rush into Advent. Our attention is attracted by the bright, shiny objects of the holiday season. Some of us see so many other people celebrating holidays and getting caught up in the frenzy.
Many of us assume we will find community and connection in the swirling tides of the holiday season. We want to think our running around and shopping will fill the empty places within us.
It is easy for us to believe the holiday season is about getting things done. We have lists of things we plan to do and we want to check them off to ensure our holidays wil be happy.
Advent is not about accomplishing things so we can check them off our lists. It is a season of interruptions in which we learn to pay attention to what gets in the way.
We experience our holidays as being all about results; getting candy, preparing a huge meal, tearing open elaborately wrapped presents.
Some of us turn our holidays into quests to find the best costume, the most delicious foods, the perfect decorations and gifts. We add things to our lists and set out to accomplish each one so we can check them off.
Advent is about taking time to anticipate and prepare.
Many of us back our way into Advent because we are not sure where it will take us.
Each year's season of Advent is unique and has its own gifts for us. We take our time to receive each Advent's gifts, not tearing them open but anticipating them.
It is a season of listening and waiting, preparing and anticipating what is to come. We pause to experience the power of each moment.
The challenge for us this year is finding our own ways to practice Advent.
Practicing Advent
While there are traditional ways to practice Advent, we each practice in our own ways.
Some of us practice on a daily basis with an Advent Calendar. Many calendars have little doors which we can open each day. Every door opens to reveal a treat for that day.
We open one door each day, and receive the treat that day. It is not about opening all the doors and eating all the candy all at once. We anticipate and savor the flavor of each piece.
Each day is a step on our spiritual journey through the season. Every day is its own reward.
Other people prefer to practice on a weekly basis with an Advent Wreath. Wreaths include a circle of greens and four candle holders spread evenly around the circle. Another candle is placed in the center of the wreath.
We light an additional candle each week during Advent.
Slowly, over time, all the candles are lit. They do not burn evenly and remind us how we have waited and prepared in our anticipation.
In addition to traditional practices, people develop their own ways to practice Advent.
Our practices are personal to remind us each to anticipate in our own ways.
Our First Steps Toward Advent
This first week is about exploring and discovering. We anticipate and prepare to receive the wisdom and insight of each present moment. The more we practice anticipating the better prepared we will be.
Our first steps are backing away from the demands and distractions of the holiday season. We set aside what demands our attention so we can be open to the present moment.
Advent begins as we step into recognizing and appreciating spiritual life in each moment. Some of us dedicate time to listening to the meaning in stillness. Our practice helps us become open to spiritual life within us and all around us.
We begin to realize we are not afraid of whatever is waiting for us in the dark or the end of the year. Each day has challenges and opportunities of its own.
Practicing Advent helps us begin to see what each day, each moment, has for us.
We relax our hands which have been holding on so tightly. As we release our grip we become open to receiving.
How are we backing our way toward Advent today?
What first steps can we take toward Advent this week?
[Image by PetroleumJelliffe]
Greg Richardson is a spiritual life mentor and coach in Southern California. He is a recovering attorney and a lay Oblate with New Camaldoli Hermitage near Big Sur, California. Greg's website is StrategicMonk.com and his email address is StrategicMonk@gmail.com.