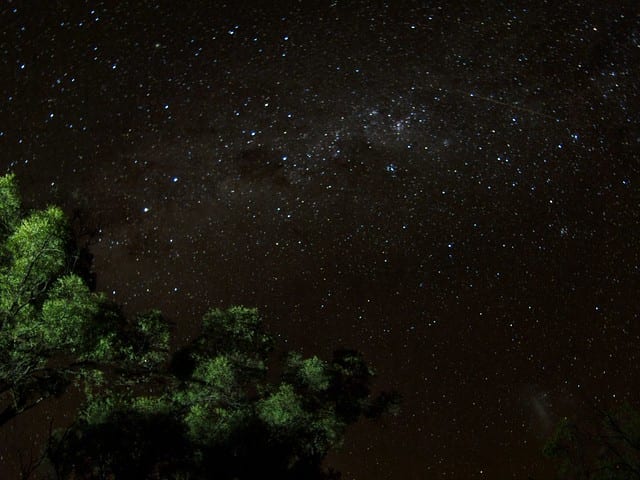 The Stillness of a Silent Night
We sit still, breathing deeply, calming down, listening to the stillness of a silent night.
It is easy for us to forget stillness is at the heart of our holidays.
We glance at our calendars and see we have only eight more days to get everything ready. Shopping and parties and expectations already fill our days.
Some of us stay up late into the night preparing for "the best Christmas ever." We are busy planning and plotting, buying and wrapping, remembering which secrets to keep from whom.
Many of us push ourselves to meet our own expectations or those of other people. We do not have time for a silent night. There are too many things we still need to do.
It is almost as if we feel this holiday revolves around us. Everything seems to depend on what we accomplish, on how our plans come together. We must continue our traditions, much exceed all those expectations.
Some of us appear to hold ourselves responsible for whether this holiday will be a success or a failure.
I experience holidays differently. The more time I can spend listening to the sacred stillness of a silent night, the better.
A silent night, or one which includes time for stillness, gives us time to reflect.
Holiday trappings and events distract us. It is easy for us to forget what this holiday is all about. Soon every holiday feels the same as we celebrate them all in the same ways.
How can we remember what each holiday means when we do not take time for contemplative reflection? When we do not listen to sacred stillness we forget why we do what we are doing.
It does not sound like celebrating to me.
Listening to the Stillness of a Silent Night
Franz Xaver Gruber composed the popular Christmas carol Silent Night 201 years ago in Austria. It was first performed on December 24, 1818 at Saint Nicholas church in the village of Oberndorf. Gruber was a schoolmaster and organist in the nearby village of Arnsdorf.
Joseph Mohr, a young priest who had arrived in Oberndorf that year had written the words of the song. Mohr brought the words to Gruber and asked him to compose a melody and guitar accompaniment for the Christmas Eve service.
The words of the song remind me of the holy, silent nights I have experienced. All is calm. Sleep in heavenly peace.
They may not give a particularly accurate picture of what was actually happening.
The accuracy of the details in the song, or in the story, do not limited their power.
We live in a world which is full of stresses and strains. More and more of us experience difficulties in everyday life. We struggle financially and emotionally. Some of us wrestle to make sense of intellectual challenges. Many of us find our lives filled with a growing sense of foreboding.
How will we put all the pieces in their places and solve the puzzle? Is there a way for us to hold everything together long enough to understand?
In the midst of our most challenging days and nights, our pain and suffering, there is time for stillness. When we are most likely to forget and feel swallowed up by life, we listen to the stillness of a silent night.
Listening to the stillness of a silent night encourages us and renews our trust. We set aside the demands and expectations of our happy holidays and listen to sacred stillness.
Each of us receives the benefits of listening to stillness.
Practicing the Stillness of a Silent Night
We practice listening to the sacred stillness of a silent night and it grows within us.
Each opportunity we take to listen helps us be more open to spiritual life all around us and within us.
There is no single correct answer and no single correct way for us to practice listening to sacred stillness. Each silent night draws us into the depth and meaning of the everyday.
We practice sitting still and listening to sacred stillness. Our practices do not transform us overnight. There are times when we do not feel like sitting in stillness, when we might not look forward to listening.
Our practice is about listening even when we do not particularly feel like it, when it is not convenient.
We listen without expecting anything dramatic to happen.
Listening to the sacred stillness of a silent night is not about waiting for an intense spiritual experience. We sit in stillness open to the possibilities of spiritual life within us and around us.
Stillness is at the heart of all our holidays. We practice being open to what spiritual life has for us to hear through our contemplative reflection.
The Stillness of Tonight's Silent Night
Some of us will rise during the dark, silent night to listen to its stillness.
We do not need to be able to go outdoors and look up at the stars to listening to stillness. When we sit still and breathe deeply we close our eyes and see the stars. We can listen to the sacred stillness of a silent night even when the sun is in the sky.
It is not the time on a clock which determines whether it is a silent night for us.
Even as we struggle with difficulties we can take time to listen. The stillness of a silent night, no matter what time it is, can transform our challenges.
Listening to the quiet of a silent night will not change the obstacles we need to overcome. The stillness will not carry us away to a sanctuary where our troubles melt away.
Listening to stillness transforms us in our struggling.
Silent night, holy night. All is calm, all is bright. Sleep in heavenly peace.
When will we practice listening to the sacred stillness of a silent night today?
How will the stillness of a silent night shape the ways we experience this week?
[Image by roaldarbol]
Greg Richardson is a spiritual life mentor and coach in Southern California. He has served as an assistant district attorney, an associate university professor, and is a lay Oblate with New Camaldoli Hermitage near Big Sur, California. Greg's website is StrategicMonk.com and his email address is StrategicMonk@gmail.com.