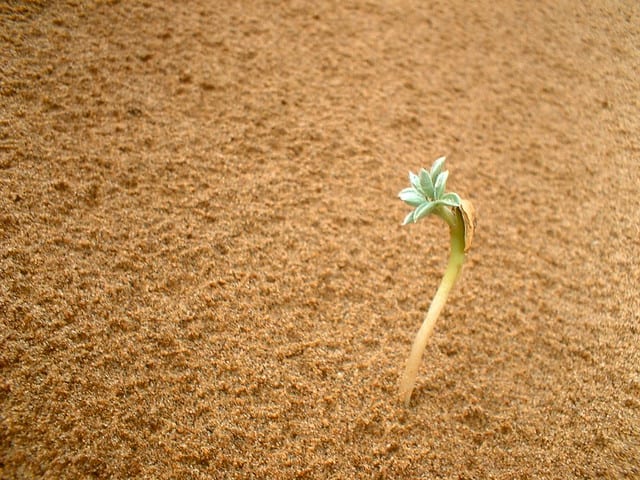 Are We Ready to Become Beginners Again?
There are no tricks and no short cuts. . . . One cannot begin to face the real difficulties of . . . life . . . unless one is first perfectly content to be a beginner and really experience oneself as one who knows little or nothing, and has a desperate need to learn the bare rudiments. Those who think they "know" from the beginning never, in fact, come to know anything. . . . We do not want to be beginners. But let us be convinced of the fact that we will never be anything else but beginners, all our life. – Thomas Merton
Benedict tells us in his rule, "Always, we begin again."
Our beginnings are important and beginning again can be even more significant. Beginning can be exciting and energizing. A journey of a thousand miles begins with one step, and every day on our journey depends on our first step.
Today, with one more day to prepare for the beginning of a new month and a new year, we are becoming beginners again.
New beginnings can feel like fresh starts. We let go of what has happened before, putting the past behind us. Beginning often has an energy of its own.
Beginning again can be a challenge and a struggle. We often require more motivation to start over than to continue. Some of us need to overcome inertia or frustration.
Many of us think we do not need to become beginners again. We must remember how to get out of our own way so things can get started.
We may prefer things orderly, organized, and running smoothly. Becoming beginners can be messy and cause a lot of disruption.
Some of us are confident we do not belong all the way back to the beginning. We believe we know enough to start again in the middle.
Can We Become Beginners Again?
Each moment is an opportunity to become beginners again.
There is no way for us to go back and change what we have already done. We cannot apply new knowledge and insight to our past actions. Regret does us no good.
It is not possible for us to leap ahead into the future. Anxiety and fear do not benefit us.
Some of us cannot stop and pay attention to the present moment before it is gone.
Each moment teaches us lessons of its own, but we can only apply them by becoming beginners again.
Our days are full of opportunities to become beginners again.
Most days begin when we open our eyes. We spend them remembering to open our eyes to the potential and the lessons of each moment. Some of us work to find ways to wake up and open ourselves to each moment.
We spend our days like plants on which the buds are getting ready to bloom. As the blossoms start to emerge, everything begins to change.
Spiritual life inspires us like a gardener or farmer who tends their plants, bringing out the best in us. It helps us find the food and water and sunshine we need. Working to keep weeds from distracting us, robbing us of what helps us become who we can be. Spiritual life cares for us and encourages us to be as productive as we can.
Our lives are about becoming beginners over and over again.
We become beginners again by looking at something we see every day in a new way. Each object, each person, each idea becomes something we have never considered before. Beginning again, we start to pay attention.
We Practice Becoming Beginners Again
Becoming beginners again can be a challenge for us. It is something many of us need to begin practicing.
We have a difficult time becoming beginners again when we spend our days and nights in fear. Some of us are afraid of growing older, of being abandoned, or of running out of money. We may be afraid of people who seem to be different from us.
Some of us are not certain about exactly what we fear, we just know we live with dread.
For many of us, our practice of becoming beginners again begins with understanding our fears. We need to look what makes us feel afraid in the eye and name it for what it is.
How can we become beginners and try new things when we do not know what is holding us back?
We do not need to become experts on what makes us afraid. It is important for us to understand our fear enough to decide how we will overcome it.
Our fears do not want us to become beginners again. When we are afraid we want to stay where we are, where we think we are safe.
Becoming beginners again takes practice.
As We Become Beginners Again
Becoming beginners is not something we need to accomplish all in one day.
We do not become beginners by setting as many goals or resolutions as we can to change everything. It is not about creating the most comprehensive list of what we want to begin.
Our practice begins when we decide to begin one new thing again.
Beginning again is not about the changes we see in our lives or the results of our efforts to change. We do not begin again to impress other people or accomplish great goals.
Our practice is about how we change ourselves. It transforms us from people who are afraid into people who are eager to begin again.
We learn to let go of what we think we already know and start again at the beginning.
Few of us want to go back to the beginning again and again. We value what we have already gained. Beginning again is a practice we can choose to follow each day.
Becoming beginners again is what spiritual life is all about.
When will we start to become beginners again today, and tomorrow?
How will becoming beginners again shape our experiences during the next year?
[Image by mscaprikell]
Greg Richardson is a spiritual life mentor and coach in Southern California. He has served as an assistant district attorney, an associate university professor, and is a lay Oblate with New Camaldoli Hermitage near Big Sur, California. Greg's website is StrategicMonk.com and his email address is StrategicMonk@gmail.com.