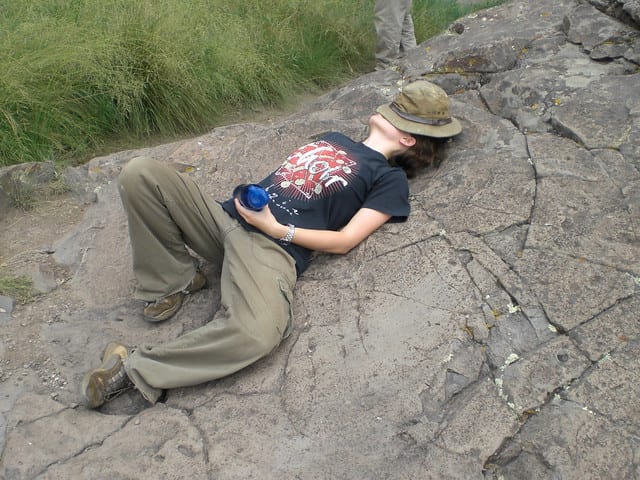 After a Week Like That We Need a Sabbath
Its feels like our last week was at least a month long.
Each day was filled with significant things to attract our attention. The Super Bowl, with its commercials and halftime show, was less than a week ago. Then there were the Iowa Caucuses, at least the beginnings, and the State of the Union Address. The vote on impeachment and the National Prayer Breakfast, and Kirk Douglas died.
It has been a long and emotionally draining week.
If ever there was a week when we needed, and deserved, to practice Sabbath, this is it.
A Sabbath is a day set aside for rest and worship. Much of how we understand our practice of Sabbath comes from Jewish traditions. The word comes from the Hebrew word for "seventh" and the Jewish Sabbath is on the seventh day of the week.
Some of us understand a Sabbath not only in terms of worship. We may think of taking a day each week for our mental heath, or to promote health, safety, recreation, and general well-being.
Most of us recognize the benefits of taking time away from work regularly. Some of us believe time off each week helps us continue to do our work well. Others of us look forward to getting away from our regular routine to explore new ways to be creative.
Some professions allow practitioners to take sabbaticals of up to a year for travel or research.
After the week we have had it seems like an excellent opportunity to practice Sabbath.
What sort of a day could we spend to rest and recover from the week we have had?
How will we take time for worshipping what is important to us this weekend?
Practicing Sabbath
Some people practice Sabbath by participating in organized worship services. Different traditions choose their own days of the week, including Fridays, Saturdays, and Sundays.
Regular attendance and participating in these organized worship opportunities can help us build community and strengthen our practice.
Many of us face challenges which make us less enthusiastic about participating in these services. For some of us, the formality of the structure and language of these services can be confusing. Some of us feel a sense of obligation or expectation which makes practicing Sabbath more difficult.
These services can support our practices of Sabbath. It is important, though, we are able to understand how the pieces fit together.
Some of us have followed the same worship steps for so long the dance has its lost meaning. We need to take a deep breath and reflect on why we are doing what we do.
Practicing Sabbath is about taking a day for rest and worship. Spending a day each week in a swirl of traditional activities is not necessarily either restful nor worshipful.
I encourage people to reduce the activity they can and take time for sacred stillness.
Sabbath is not about rushing around to make sure everything is finished so we can rest. We are not trying to finish seven days' worth of work in six days. Part of practicing Sabbath is discerning which of our priorities are most significant to us.
Our days of rest and worship are about understanding what we need to do and what we do not.
We build the foundation for our Sabbath practice by knowing how we will spend the rest of our days.
Each of our days is filled with gifts of moments. As we pay attention we open them and receive what they have to give us.
Steps in a Sabbath Practice
For many of us the first step in practicing Sabbath is to stop taking steps.
Our practice is not about doing more or following a checklist. The challenge for most of us will be becoming comfortable with taking time to rest.
We do not need to buy and read any more books or accumulate any new experiences. Our practice, like many contemplative practices, is about slowing down and taking time.
Many of us are adept at filling every spare moment with productivity. We apply what we learn at work to the rest of our lives, bringing things to do home with us. Our minds are constantly running, trying to solve problems.
Practicing Sabbath, for many of us, can feel like being ill. We may tell people we need to stay in bed or need more rest. Rest is a foreign concept in our culture and people may be concerned about us.
Rather than trying to take incremental steps into practicing Sabbath it might help to jump in with both feet. We can embrace a contemplative practice of Sabbath and immerse ourselves into its welcome.
Set aside and protect a day for rest and worship.
A Sabbath Day Each Week
We do not need to put pressure on ourselves or expect to do even more.
It might help us to reflect on how we want to begin practicing Sabbath. Understanding the idea of Sabbath and its benefits wil hep us choose our practice wisely.
The practice of taking one day each week for rest, worship, and reflection is an ancient one. Each of us is given the same number of hours each week and we choose how we put them to work for us.
Some of us believe time is money. We inject as much effort as we can into each hour and try to squeeze every ounce of productivity we can from it. Life is about not wasting any money.
Others of us value our hours differently. We believe time is more valuable than money. The ways we live our lives can become stronger and wiser when we invest some of our time in regular rest, worship, and reflection.
Practicing Sabbath for one day each week enhances how we live on the other six days.
How will we begin practicing Sabbath in a new way today?
When will we practice Sabbath after a week like we just experienced?
[Image by Beezum]
Greg Richardson is a spiritual life mentor and coach in Southern California. He has served as an assistant district attorney, an associate university professor, and is a lay Oblate with New Camaldoli Hermitage near Big Sur, California. Greg's website is StrategicMonk.com and his email address is StrategicMonk@gmail.com.