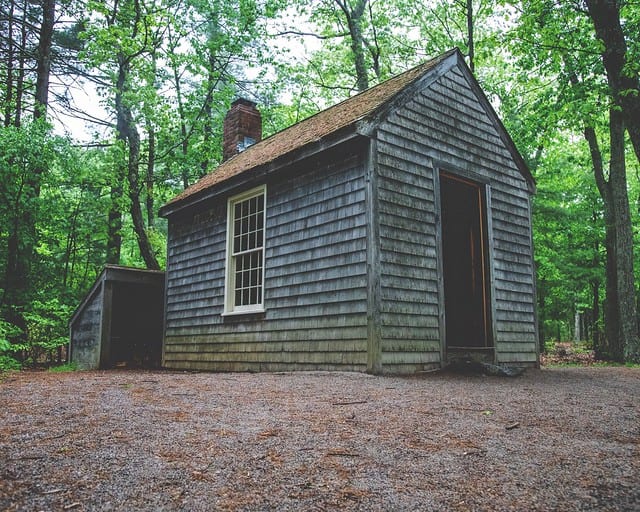 Intimate Seclusion
This has been a year of intimate seclusion for some of us.
Many of us have chosen to find as many diversions as we could through these last few months. We have explored new sources of streaming entertainment. Some of us feel lost in the historically epic political campaigns going on around us. We may have stockpiled what we believed was essential and closed ourselves off from our neighbors.
All the concerns and all the distractions have kept many of us from experiencing the intimate seclusion I find in monastic life.
I was not able to spend any time at the hermitage where I am an Oblate this summer because of the California wildfires. Driving up in my car gives me hours of seclusion in which to prepare. I can feel my retreat beginning as I travel north from Los Angeles. Driving on the freeway is not quite the same as living deliberately in the woods, but I notice the changes happening.
Radio stations fade away and I lose phone reception as the intimacy of the monastery embraces me.
Some of us have recognized this year as an opportunity to explore intimate seclusion. Working remotely, we have learned how to set boundaries and protect our contemplative practices. We may have begun to develop new practices or restore those which have slipped away from us.
For some of us, though, the intimate seclusion of this year is not something we have chosen or expected. We made neither New Year's resolutions nor Lenten disciplines. Some of us have found ourselves living a contemplative year we did not intend too live.
Spiritual life has many ways of drawing us into intimate seclusion. We may begin with complaining or struggling, but the retreat begins as we are driving along the way.
Living into Intimate Seclusion
I have a friend who was the pastor of a Lutheran congregation when this year began eleven months ago. She lives with her husband in Massachusetts, across the country from me.
Spiritual life has drawn her into intimate seclusion this year.
A few months ago her husband was diagnosed with cancer. His medical needs and treatment immediately became the focus of her attention. Her concerns about her congregation were quickly transformed into a desire to spend time taking care of him.
She decided to retire from her church and seek more intimate seclusion with him.
I speak with her every few weeks. We talked via FaceTime last week.
Her Lutheran church has been and is being supportive of both of them. The rhythm of her everyday life has settled into the rhythm of his life. Between appointments and treatments they spend much of their time reading and eating and resting.
We will continue to talk and I will continue to support her. She will continue to be an example for me of growing into intimate seclusion.
Like many of us, they spend their days together while each of them does their own deep inner work. It is a time of significant challenges and changes, particularly for them, and each of them face it in their own ways.
Some of us might feel their world has become smaller. Their experience is, rather than a shrinking world, they are becoming clearer and focused.
As we are drawn into intimate seclusion we let go of our distractions and diversions. Like driving up to the hermitage, they drop off as we get closer to where we are going.
How do we live into intimate seclusion? What steps can we take to allow spiritual life to embrace our everyday lives?
Choosing Intimate Seclusion
The monks at the New Camaldoli Hermitage reflect on a text written more than 1,000 years ago by Saint Romuald know as his Brief Rule:
"Sit in your cell as in paradise.
Put the whole world behind you and forget it. Watch your thoughts like a good fisherman watching for fish. The path you must follow is in the Psalms — never leave it.
If you have just come to the monastery, and in spite of your good will you cannot accomplish what you want, take every opportunity you can to sing the Psalms in your heart and to understand them with your mind.
And if your mind wanders as you read, do not give up; hurry back and apply your mind to the words once more.
Realize above all that you are in God's presence, and stand there with the attitude of one who stands before the emperor.
Empty yourself completely and sit waiting, content with the grace of God, like the chick who tastes nothing and eats nothing but what his mother brings him."
Reflecting on this text has helped me find intimate seclusion when it has felt particularly far away.
"Do not give up."
Steps Toward Intimate Seclusion
I tend to find intimate seclusion in places of stillness, or at least at times when I pause to listen to stillness.
Rocking in a chair and watching the birds outside my cabin at the hermitage allows me to put the whole world behind me and forget it. Sitting still and breathing deeply for several minutes with my eyes closed helps me allow myself to be drawn into spiritual life. We empty ourselves and sit waiting, content with the grace of God.
Like my friend and her husband, we discover intimate seclusion as other concerns drop away. We take care of each other, taking time to feed each other and to rest.
There are so many things we worry about which, in the final analysis, do not matter. This year is teaching us all the things which occupy our minds and our calendars which are ultimately of no consequence.
All which drives us, everything we are convinced we need, can be found in our intimate seclusion.
Sit in your cell as in paradise.
How has this been a year of deepening intimate seclusion for you?
When will we have time to become more open to intimate seclusion this week?
[Image by MCHLC]
Greg Richardson is a spiritual life mentor and coach in Southern California. He has served as an assistant district attorney, an associate university professor, and is a lay Oblate with New Camaldoli Hermitage near Big Sur, California. Greg's website is StrategicMonk.com and his email address is StrategicMonk@gmail.com.