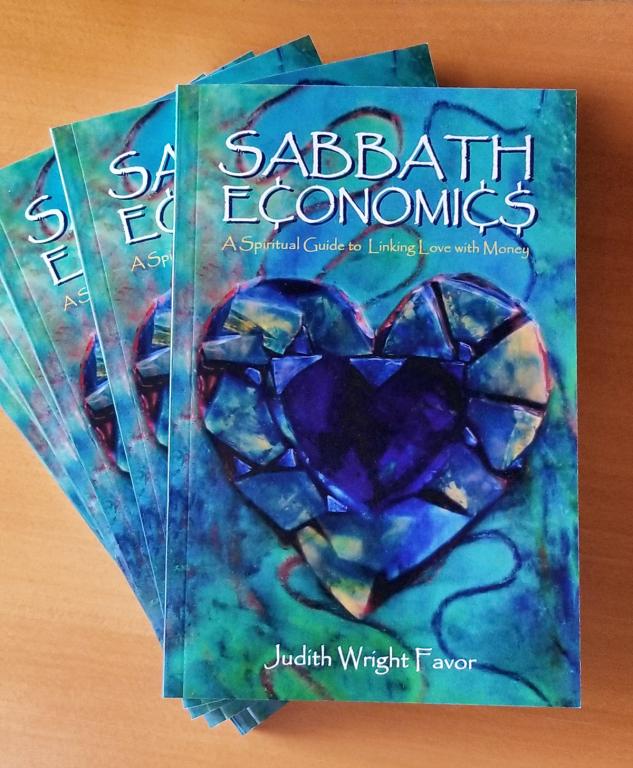 Sabbath Economics
Would we handle our finances differently if we understood the principles of Sabbath economics? How would Sabbath economics transform our everyday lives, our attitudes toward work and rest?
For most of us, capitalist economics dominate our everyday lives. We are concerned with working and making a living, having enough money for food and shelter and health care. Some of us save for the day we retire or put money away to send our kids to school someday. We may be paying off our own student loans or caring for our parents.
For many of us, having enough money to save feels like a distant dream.
Our culture tells us supply and demand, profit and loss define our everyday lives.  We live in a world populated by a handful of extremely wealthy people and a growing majority of people in poverty.
No matter how intentionally we try to pay attention to spiritual life, our economics are apparently immune.
Even a worldwide pandemic does not change our focus. Many of us view the coronavirus through an economic lense. The numbers of people sick and dying overwhelm us, but our priority is getting the economy going again. We are competing with other, less capitalistic countries.
Sabbath Economics is a book which will help us gain a new, deeper understanding.
It is neither a textbook about economic theory nor a complicated list of steps to change or fix our economy. This book does not describe how to predict or survive the next great economic crisis. Its pages are not filled with graphs or charts to show us how to save or spend or invest.
This book is filled with and written around stories. The stories fit together and revolve around the author, Judith Wright Favor's own story.
Each story is full of meaning.
What Does Sabbath Economics Mean?
Judith Favor draws us into her story and the stories of people who have helped shape her.
Each chapter of Sabbath Economics shares stories which illustrate the overlapping significance of economics and spirituality. Judith's spiritual journey has visited many varied traditions and found a home with the Quakers, the Society of Friends.
Her book is like an honest conversation with an insightful friend. It is not a lecture, not a seminar, not a manipulative series of illustrations. Judith creates ways each of us can enter into and gain from our shared conversation.
She organizes her book into four parts, each of which is an aspect of water.
Part One is the ocean of light. Judith begins her story by waking up in Haiti. Her writing embraces elements of nature, including water and salt. She describes the transformative experience of being listened into what matters most.
Part Two is a living stream. Judith describes her academic experience with economics and explores the difference between doing and being. One chapter describes contemplating money. She describes her own personal allergy to debt, and writes about the connection between debt and doubt. Judith also describes her own experience with wanting things.
Part Three is about fluidity. She explores writing and choosing what matters most. Judith also shares her transformative story. She encourages us to write our own stories, including our money autobiographies, in practical ways.
Part Four describes aquifers. She writes about taking stock and investing in justice. Judith asks her friends to hold her in the mystery of light.
Judith has filled her book with wise insights and good questions. She prompts further reflection and encourages readers to continue the conversations started in the book.
Sabbath Economics is a refreshing resource to help us find our way.
How Can Sabbath Economics Help Us?
I do not believe Judith's book will solve all our problems or answer all our questions.
At a time when many of us are struggling with economic challenges, Sabbath Economics is an excellent beginning. It is a welcoming place to start, or to start over.
It is a challenge for many of us to find practical ways to put our values into practice, particularly with our money. Making choices seems to get complicated quickly as we consider needs which threaten to overwhelm us. It is easy for us to feel lost when we want to make a meaningful difference but do not understand complex tax laws. We feel anxious about making mistakes.
This book is not a guide which will help us navigate administrative rules, but it will help us begin. Judith's questions and stories will spark our thinking and reflection.
What are the best, wisest ways we can relate to our money? How can we make contemplative choices? Are there ways we can release ourselves from the anxiety and fear and guilt we fee about money?
Sabbath Economics will not tell us our final answer, but it can help us determine our next step.
Practicing Sabbath Economics
One thing I appreciate about Judith's book is there are no formal rules for practicing Sabbath Economics.
This book is not about teaching us rules to follow, the way things have to be. Each of us takes time to read and reflect, contemplating how to put these insights and questions into practice.
Sabbath Economics is not a matter of finding the one right answer, following the one right path. This is not a checklist we try to complete as fast as we can, by the end of this month or the end of Lent.
This is about beginning, not completing.
We read the stories Judith shares and recognize how each story connects and builds on the ones before it. These economics are not about plotting the curve or finding the point on a graph.
Judith Wright Favor shares the stories she has lived and has listened to and they spark our contemplation. She has also written a Companion Journal.
Each of us takes time to reflect and new questions and insights are sparked in us. We choose how to put Sabbath Economics into practice.
How will we put Sabbath Economics into practice today?
When can we take time to contemplate Sabbath Economics this week?
[Image by Judith Favor]
Greg Richardson is a spiritual director in Southern California. He has served as an assistant district attorney, an associate university professor, and is a lay Oblate with New Camaldoli Hermitage near Big Sur, California. Greg's website is StrategicMonk.com and his email address is StrategicMonk@gmail.com.