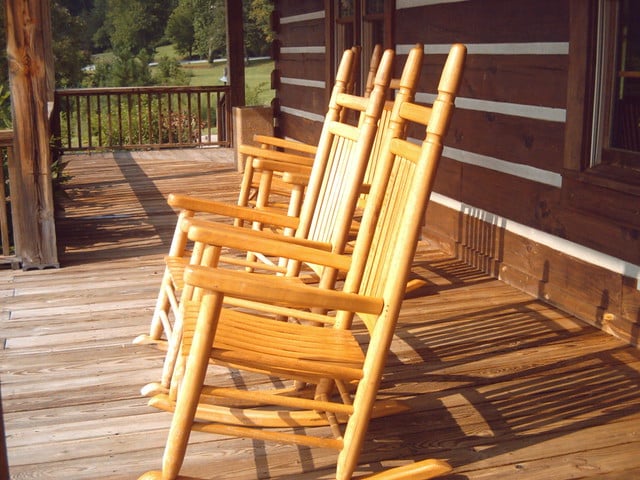 Rocking and Feeling the Breeze
This summer is an excellent opportunity for us to spend some time rocking and feeling the breeze.
The last year and a half have been full of anxiety and fear for many of us. Now, as some of us begin to glimpse the return of something like normal life, we can take time to reflect.
Some us are eager to get moving again, frustrated by our months of isolation at home. We want to get going again.
Many of us feel like we need to push ourselves now more than ever. We sense we have fallen behind where we hoped to be by now and we want a jump start.
For others of us, the last year and a half have blown past us and we feel we must make up for lost time. We have lost track of days and months, and it is a challenge to remember we are beginning the second half of this year.
This summer, in particular, it is important for us to take time for sitting and listening, for rocking and feeling the breeze.
Rocking seems to help. It is as if rocking is how our bodies take time to listen without coming to a complete stop.
We spend  a lot of our time concerned with keeping up or getting ahead. Come sit next to me for a little while, just rocking and listening.
First we sit down. There are rocking chairs on the porch and we can look out to watch the world go by. We may want to sit looking out over the ocean, or the mountains, or the neighborhood. It may be the sunrise or the sunset which gets our attention, or a refreshing summer breeze.
As we sit rocking, we allow ourselves to begin listening.
Closing Our Eyes and Feeling the Breeze
We begin to listen to the voices all around us, and within us. There are all the things we heard all day or all week. We may have heard gunshots and screaming. It may be the sounds of traffic or arguing. The sounds of hurricanes or earthquakes or forest fires may ring in our ears. Slowly but surely we begin to release them and let go for a few minutes.
Even more slowly they let go of us, just for a few minutes.
As the sounds recede from our minds we can begin to listen to sacred stillness. We sit together on the porch rocking and listening.
Some voices tell us we need to get busy doing something. Times are urgent and we need to make a difference. While these are demanding times, we have a few minutes to sit rocking and listening.
We close our eyes and breathe in deeply and breathe out, feeling the breeze on our skin. So we release our tight grip on expectations and concerns for a few minutes.
All we need to do right now, in this moment, is sit in our chairs rocking and listening.
It does not mean our problems are solved or we have done all we need to do. We listen to sacred stillness to be reminded of its depth and immensity. There is more sacred stillness than we can absorb, and always will be. We cannot exhaust its power and resources.
It is neither necessary nor important for us to discuss philosophical or theological questions. There is no need for us to speak at all. Our words, our thoughts, our feelings, our actions, are not essential.
It is enough for us to sit and breathe, rocking and listening to sacred stillness.
Time for Feeling the Breeze
We sit together, rocking and listening to the stillness which is beyond our understanding. What more could we need?
Our listening may help us remember deep truths and intimate relationships. We release our tight grip on our own ideas and they fit themselves together in new ways.
Breathing deeply and rocking gently allows us to listen, which makes all the difference.
Unless we make time for feeling the breeze and rocking and listening we may just skim along the surface.
It can feel like we always have "just one more" thing to do. Rocking and listening are rarely our highest priorities. We build our schedules around other things.
We tend to see rocking and listening as unproductive ways to spend our time. Why would we waste our time feeling the breeze when we could be getting something accomplished?
Our many competing priorities confuse us and we head off in other directions. A few minutes of rocking and feeling the breeze help us remember who we are becoming.
Listening to sacred stillness teaches us how to listen well. If we do not make time to listen to deep, sacred stillness, who will get us to listen?
The Hidden Depths of Feeling the Breeze
We sit down together, rocking and listening to sacred stillness for just a little while. Our willingness to give time to stillness demonstrates our respect for it. We share this moment, beyond words, with each other feeling the breeze on the surface of our skin.
Listening to sacred stillness clears our heads and our hearts, opening us to truths all around us. We have forgotten, we have missed it, and listening to stillness reminds us.
Our listening is not about mastering or cataloging stillness. We are not trying to control it, but letting it flow over us, like feeling the breeze flow over us. Exploring the hidden depths of sacred stillness allows it to explore our hidden depths as well.
We listen and sacred stillness draws us further into our depths.
Rocking and listening is not complicated, not challenging, not a goal to achieve. We are simply two friends, sitting on a porch, rocking and listening to sacred stillness.
We practice listening to sacred stillness and feeling the breeze.
When will we make time for listening to sacred stillness and feeling the breeze today?
Who will sit with us, rocking and listening and feeling the breeze this week?
[Image by RandyNickatNite]
Greg Richardson is a spiritual director in Southern California. He is a recovering assistant district attorney and associate university professor, and is a lay Oblate with New Camaldoli Hermitage near Big Sur, California. Greg's website is StrategicMonk.com and his email address is StrategicMonk@gmail.com.