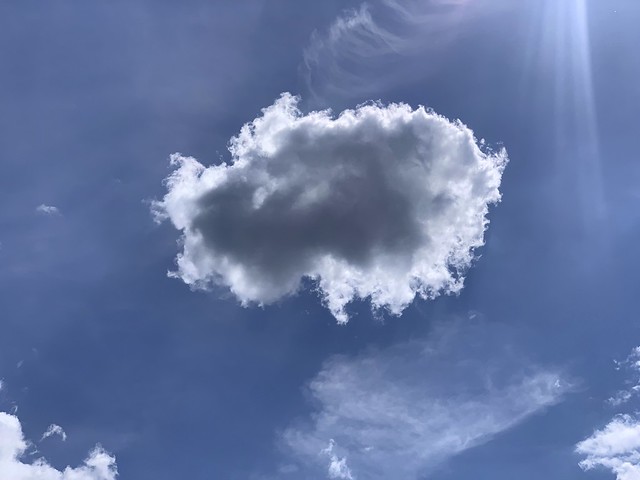 Our Second Pandemic Summer
Many of us were hoping it would not come to this. We expected to wait out the storm of the pandemic and, eventually, it would all go away. Instead, we find ourselves living through our second pandemic summer.
It is not as scary as last summer. We take more walks and get out and about more. The fear of last summer is being replaced with a mixture of hope and frustration.
Last summer we encouraged each other by talking about getting back to normal. Now we are beginning to realize this pandemic is not something we can survive and forget, filing it in the past. Our second pandemic summer reveals to us how our lives are being transformed.
For many of us, the lives we lived before the pandemic seem further away. We have begun to forget what we used to take for granted.
Many of us have begun new practices during the last year and a half. Some of us invested our time in learning new skills. We may have taken steps to become more contemplative. Some of us renegotiated our priorities and our connections to the people around us. We may put less effort into working and more into our families, or our hobbies.
Some of us are choosing to stay at home instead of going back to old, established workplaces.
Many of us are questioning the ways we have always done things. We experience the pandemic as a call to wake up and make changes we have considered for a long time.
Some of us are experiencing spiritual life in new ways. We see things differently, and are developing new practices to reflect those new ways of seeing.
Many of us are taking time to rediscover practices we began, but did not maintain, in the past.
Exploring Our Second Pandemic Summer
Some of us find this second pandemic summer particularly disappointing. We believed we could protect ourselves, weather the storm, get a vaccination, and smoothly sail into the future.
Many of us enjoyed the lives we had before the virus, the lives which may have contributed to the pandemic. We have spent the last year and a half looking forward to getting back to where we were.
A large number of us have, slowly, begun to realize we cannot go back to the way things used to be. This second pandemic summer is an excellent opportunity to reset our goals and expectations.
What are the lessons we have learned during the last year and a half? Are we taking the time we have been given to reflect and grow into new maturity?
How will we change our behavior to bring it more into line with our own values and beliefs?
Where do we want to be, in light of the pandemic, a year or two from now? Will we put the lessons of the pandemic into practice?
One truth the pandemic has reminded us about is how we are all interconnected. There is no safe place in the world to hide from a new virus which emerges anywhere in the world. We all experience the effects of climate change, whether our states are on fire or under water.
What practices will we change, or develop, to acknowledge the lessons of this second pandemic summer?
We need more than new technologies, new ways of understanding. Our future depends on putting our new insights into practice.
The world is more connected than ever before. We need to use our growing connection to take steps toward a new future.
How can we explore new practices together during our second pandemic summer?
Choosing Our Steps During This Pandemic Summer
This second pandemic summer is a challenging one for us. We are not facing the immediate challenges of last summer, but we need to remember to take care of ourselves. It can be easy for us to get caught up in stepping forward, and we need to take time for rest and reflection.
We need to balance contemplation and action, reflection and applying our questions and insights.
The practices we develop, or rediscover, during this pandemic summer will shape our lives in the future.
It is important for us to surround ourselves with people who will support us and challenge us in healthy ways. We need to plan time for reflection and time for practicing. This summer we can build a framework which will help us apply what we have learned from this pandemic.
Many of us have lost people we love during this pandemic. We need to take time to remember and reflect on those people and our love for them.
Questions and insights and perspective come to us as we reflect on what we have experienced in this pandemic. Our practices must include listening and speaking, paying attention and acting.
Insights of Our Second Pandemic Summer
Some of us see this second pandemic summer as a cloud blocking out the sun. We look up, hoping to see sunny reassurance and a return to normal life, but see a cloud.
Others of us feel the heat of the sun during our second pandemic summer. We are hot and sweaty and tired, and find relief in the shadow of a small cloud. When we see this cloud we begin to hope it might bring rain to ease our drought.
The only ways this pandemic is a waste is when we do not look up to see the cloud, do not reflect and grow.
As we take time for contemplation we begin to appreciate a second pandemic summer may not be the end of our world. There is more life for us, new questions and opportunities to put what we believe into practice in new ways.
Even the loss and pain we experience as a result of the pandemic give us gifts if we take time for contemplative reflection.
How will we explore our second pandemic summer this week?
Where will we begin to take our next steps during this second pandemic summer?
[Image by garryknight]
Greg Richardson is a spiritual director in Southern California. He is a recovering assistant district attorney and associate university professor, and is a lay Oblate with New Camaldoli Hermitage near Big Sur, California. Greg's website is StrategicMonk.com and his email address is StrategicMonk@gmail.com.