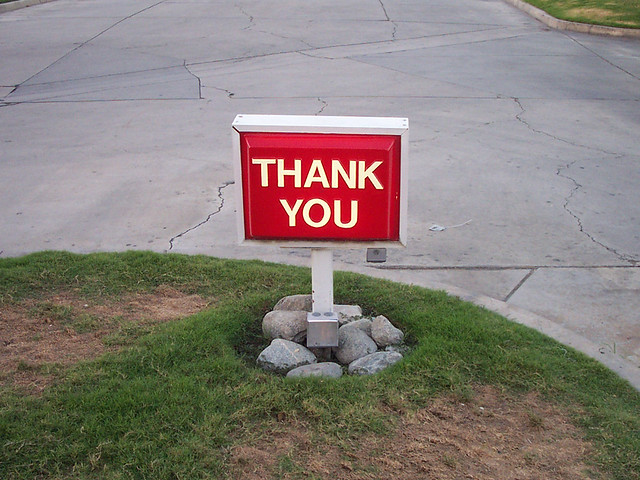 Exploring Contemplative Thanksgiving
Can we have a contemplative Thanksgiving? Is Thanksgiving even still its own holiday?
Thanksgiving can be more than a precursor to Black Friday, Small Business Saturday, and Cyber Monday, or the day "shopping season" begins. It is more than Turkey Day or the next stepping stone to college bowl eligibility.
Retailers are desperate to generate revenue, and we need to do what we can to help the economy.
I enjoy good football games, and really appreciate great food.
It is probably not be too surprising the one day each year we set aside to reflect and count our blessings seems to get smaller and smaller. Giving thanks is not an easy way to motivate people to buy more things.
It is stuck between those two financial powerhouses, "the day for which we decorate and buy candy" and "the day for which we decorate and buy presents."
Thanksgiving makes us uncomfortable. Not the day, not the enormous meals or the family time. We are not eager to give thanks for what we have received.
Most of us prefer to believe we deserve what we have. We work hard, and have earned the fruit of our labor. It is natural to want a day to enjoy what we have earned.
Thanksgiving is not about what we have earned, but a day to remember and reflect on how much we have been given.
I am inviting you to join me in a contemplative Thanksgiving. I would appreciate it if we could spend some of our Thanksgiving time being thankful.
We can let go of the things which distract us so we can focus on what we have been given rather than what we have earned?
Building Contemplative Thanksgiving
Thanksgiving Day will be here in a couple days.
We think of Thanksgiving as an event. We celebrate it with large meals, parades, lots of football on television. For many of us Thanksgiving is the beginning of the retail season.
There are people who have jobs which require them to work on Thanksgiving Day.
Even some of us who do not need to show up at our jobs on Thanksgiving Day are working on thanksgiving.
Contemplative Thanksgiving is more than a single day event just over a month before the end of the year.
We like to think we earn what we have and how we live through our own behavior. We like to think we somehow deserve the ability to consume an inordinate share of the world's resources.
Thanksgiving, gratitude, often does not come naturally for us.
Our gratitude depends on our ability to receive and recognize the gifts life has for us. We are still working on our willingness to accept blessings as gifts, not as wages. When we believe we have a right to health, wealth, or happiness, it is difficult for us to be thankful. Many of us experience the value of these gifts more authentically when we lose them for a time.
Even our experiences we do not enjoy, which make us feel uncomfortable, can give us gifts. As we remember and reflect on what happens to us, we unwrap the gifts life has for us. Some of the times we least appreciate may have the most valuable gifts we receive.
Our thanksgiving has more to do with our own attitudes and expectations than our circumstances.
This year is an opportunity for us to build contemplative thanksgiving. We can take time to breathe deeply, to listen, to be present to love.
Each of us can take time this week to remember and reflect, to practice contemplative thanksgiving.
Practicing Contemplative Thanksgiving
How do we practice contemplative thanksgiving?
I am not talking about learning to deep-frying a turkey or a new way to make gravy. Practicing contemplative thanksgiving is not about getting ready to watch more football. Our thanksgiving is not limited to one day in November, or October.
Contemplative Thanksgiving is how we respond to all the blessings of this life.
For some of us, giving thanks is something we do within ourselves. We may sit quietly, remembering people and experiences which shaped our lives. Thanksgiving may be our attitude of gratitude.
For others, contemplative thanksgiving is more about what we do, how we behave. Some of us spend time each week, not only in November, feeding hungry people. We are grateful to have food, and show our gratitude by helping people who do not. These people are not really more kind than the rest of us. They put their contemplative thanksgiving into practice.
Some of us demonstrate contemplative thanksgiving no matter how we feel at the moment.
My own thanksgiving, and lack of thanksgiving, has taught me significant lessons. It is easy for me to forget how thankful I believe I am. I am more grateful when I pause to take a breath, to remember and reflect.
Fear can make it more challenging for us to practice contemplative thanksgiving.
When we are afraid, we tend to hold onto what we have, or think we need more. We like to believe our possessions and wealth keep us safe. When we are discouraged, or despairing, we do not feel very thankful.
My own practice of thanksgiving grows stronger when I pay more attention to life's blessings. Life may become filled with distractions when I see things as obstacles, not lessons.
Have a Contemplative Thanksgiving
It is easy for us to become caught up in the momentum of "The Holidays" and forget what each one means. Our lives are full of distractions which draw our attention away from what is important to us. Contemplative holidays are opportunities for us to reflect and remember.
Take time this Thanksgiving to consider what makes life worth living for you. Spend time with the why rather than the how.
Each of us needs to take a deep breath this week and remember for what and for whom we are truly grateful.
When will we explore contemplative thanksgiving today?
How will we practice contemplative thanksgiving this week?
[Image by Orin Zebest]
Greg Richardson is a spiritual director in Southern California. He is a recovering assistant district attorney and associate university professor, and is a lay Oblate with New Camaldoli Hermitage near Big Sur, California. Greg's website is StrategicMonk.com and his email address is StrategicMonk@gmail.com.